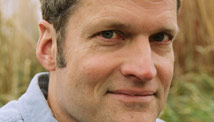 Editor's Note: Stephen Prothero, a Boston University religion scholar and author of "God is Not One: The Eight Rival Religions that Run the World," is a regular CNN Belief Blog contributor.
By Stephen Prothero, Special to CNN
I survived!
Over a day (32 hours, actually - not that I'm counting) without cellphone or laptop, unplugged from radio and television even. But why did I agree to do this?
Because I spent a glorious week last year on Cape Cod in a Provincelands dune shack without electricity or running water. Because I sometimes dream about smashing my cellphone with a sledgehammer.
Because much of the "connecting" I do through email and Facebook and Twitter makes me feel disconnected from the things that really matter. And because Tanya Schevitz asked me.
Tanya works for Reboot, which sponsors what it calls the Sabbath Manifesto Unplug Challenge. The inspiration behind this project is the Jewish Sabbath, but in this case the rules are up to you.
Or, in this case, me.
When I decided to unplug last Thursday, I had just finished a few hectic weeks of media appearances on the new Pew Forum religious literacy survey and the new PBS television series "God in America." So I was ready to slow down, revel in silence and unwind.
I decided to stay away from my computer and my cellphone, and to leave my television to its own devices. I did allow myself a drive to a local farm to pick up some food, though I did not turn on the radio.
I wish I could say that I spent my day walking along the salt marsh near my teeny tiny cottage on Cape Cod, or wandering around Sandy Neck - an outing I've been coveting ever since I read Thoreau's "Cape Cod" a couple years ago.
Instead, I spent most of my day rummaging through old papers and books that had been building up in my place for months, waiting to be shelved or filed or relegated to recycling.
My day's key moment came when I happened across my old Roget's Thesaurus. I got that paperback as a gift in high school, and over the years, as it browned and brittled and flaked away, I used it for hundreds of papers, dozens of job applications, and a few books.
In recent years, I have found myself gravitating to online resources when I needed a synonym - for "gravitating," for example.
In memoirs from Hunger of Memory to Days of Obligation to Brown, Richard Rodriguez has reflected elegantly of what he lost when he crossed over from Mexican to American life. I don't reflect enough on how I have changed since I first plugged my computer into a telephone line connected to the Internet in the early 1990s in Atlanta.
I do know, however, what I lost by taking part in the Unplug Challenge. I lost the book that taught me (on its very first page) the useful distinction between:
Abandon, v.t. relinquish, resign, give up, forego, surrender, discontinue, waive, abdicate; leave, quit, evacuate, withdraw (from); desert, forsake, maroon, discard, drop.
and
Abandon n. rashness, recklessness, imprudence, impetuosity, impulsiveness, audacity.
and
Abandoned, adj. dissipated, immoral, shameless, corrupt, unprincipled, depraved; lost incorrigible, reprobate, unbridled.
But to be honest I didn't really lose it. I abandoned it. I dropped it, coverless and multi-taped, into my recycling bin, though (I must add) not at all impulsively and not without shame.
The opinions expressed in this commentary are solely those of Stephen Prothero.