Editor's Note: CNN's Philip Rosenbaum, Jonathan O'Beirne and Carl Graf bring us this story and video from Staten Island, New York.
It's a busy Sunday morning in August for Gabriella Velardi Ward in her modest home in the New York City borough of Staten Island.
Velardi Ward lights candles, gingerly lays out prayer sheets and looks at herself in the mirror, mindfully putting on her white robe and vestments.
A short woman with a behemoth sense of spiritual self, Velardi Ward also attends to earthly matters.
While she makes sure the table is full of healthy vegetarian dips and finger foods, umbrella-carrying worshipers trickle through the door before the heavens unload. She hugs new arrivals who take seats in a rough circle in the humble but welcoming suburban living room.
To any stranger, this would be a scene to behold: a demonstration of belief, perhaps similar in passion to 1960s war protests whose organizers loved their country but felt deep pain over some of its most troublesome acts.
Velardi Ward leads this sing-a-long and prayer-filled sit-in of devotion and rebellion on behalf of God, his creatures great and small and her half of humankind.
She says this is a Catholic Mass.
She says she is the priest.
"I was five when I told my sister that I wanted to be a priest and she laughed at me and said, 'You can't, you're a girl."'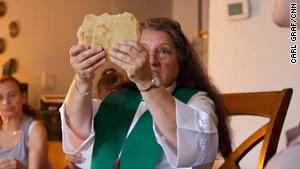 "I've been a Roman Catholic priest since July of 2008," Velardi Ward says, in proud defiance of official Church doctrine, which strictly forbids women from the role.
Velardi Ward, ordained by a worldwide organization called Roman Catholic Womenpriests, says some express surprise that she is a woman of the cloth. Like her sister many years ago, others say that's not even possible.
"Women and men are created equal by God and can therefore equally represent Christ," the vision statement of Roman Catholic Womenpriests says in its counterpoint.
Before being ordained as a woman priest, the group requires a college degree in divinity, theology, or other related subject, a litany of religious and community experience, plus a written "synopsis of one's life story of the applicant's growing awareness of a possible call to priesthood."
"Rooted in a response to Jesus, who called women and men to be disciples and equals in spreading the Good News, we are called to exemplify the changes we wish to see in the Church," the statement says.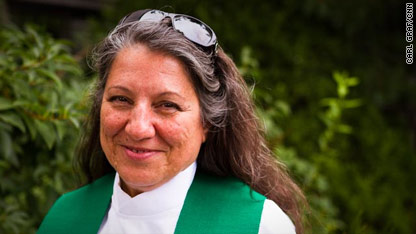 "For me, it was falling in love with the Mass. It was falling in love with Benediction. It was falling in love with prayer. It was falling in love with just being with God, even at that age," says Velardi Ward, who, as a child, drew chalices and tabernacles, while classmates were more into Rock and Roll, G.I. Joe and Barbie.
In third grade, Velardi Ward joined a vocation club geared towards entering the convent. She also began reading religious philosophers and later explored other faiths, such as Bahá'í and Buddhism.
"I wanted to find God. I wasn't feeling it. I wasn't finding it in this way because I was rejected," she says, because of her gender.
The 63-year-old mother of two broke off from the Church after high school and did not come back until she was in her 40s, when she became very active in a local church and once again felt the overwhelming desire to be a priest.
She went to seminary to study for the calling.
"We are members of the Church. We are a reform movement within the Church. We are not a schism, we are not leaving," she says.
But the Church does not agree, to put it mildly. In July, the Vatican's Chief Internal Prosecutor Monsignor Charles Scicluna called women's ordination a "grave delict."
Ordained women are subject to ex-communication according to Canonical law.
"We stand in a long line of prophetic disobedience to an unjust law. Ex-communication doesn't have power unless you give it power. So, to me, it doesn't mean anything," she said.
Most striking, rules recently issued by the Vatican have made the ordination of women as priests a "crime against the faith" that it puts on a similar level of sin as pedophilia.
"To compare people who destroy lives of children to we, who want to serve the people of God, is outrageous to me," Velardi Ward says.
"How dare, how dare they put that in the same sentence?" she asks, adding that women are also made in the image of God.
Citing a 1976 statement from the Pontifical Biblical Commission, Roman Catholic Womenpriests writes that there is no scriptural reason women cannot be ordained.
The group paraphrases Galatians 3:28 as saying there is "no male or female in Christ Jesus" and says there is archeological evidence of women priests, deacons and bishops.
"In obedience to Jesus, we are disobeying an unjust law," the statement says.
Roman Catholic Womenpriests last year called on Pope Benedict to lift the decree "as a gesture of reconciliation and justice toward women in the church," saying in a news release that it would be a "step away from the institutional church's treatment of women as second-class citizens."
An architect by profession, Velardi Ward estimates that about 125 women priests have been ordained around the world, some keeping it secret to avoid trouble.
What does she believe Jesus Christ would say about the controversy?
"I think Jesus would say to the church, "What are you doing to my church? This is not the church I founded. I included everyone. I taught women who were not allowed to be taught back then. I associated with, I had theological conversations with the women."
Velardi Ward says anyone who sees only males as priests is "worshipping the male." Women make good priests, she says, because they're "compassionate" and bring a balance of male and female energy she says is missing.
Velardi Ward is hopeful about the future and prays for change.
"Right now we are on the fringes and the Church is the center," she says.
"But I think in 50 years, what might happen is that the fringes will grow so large and the center will become so small that after a while the fringes will welcome the center back into the church."