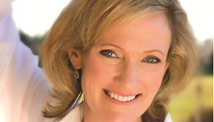 Editor's Note: New York Times and USA Today bestselling author Karen Kingsbury is America's No. 1 inspirational novelist. Dubbed the Queen of Christian Fiction by Time Magazine, Karen has written more than 50 of her Life-Changing Fiction ™ titles and has nearly 20 million copies in print.
By Karen Kingsbury, Special to CNN
Can you see him?
The figure of a lonely kid straggling down the hallway, hunched over, hiding behind the bulk of his backpack. Hair in his eyes. He passes the jocks, the cool kids, and someone spots his flute case, the one tucked under his arm.
"Look at him," one of the guys sneers. "Here comes the flute player!"
A round of cruel laughter ricochets down the hallway. "Flute player?" another guy makes a face. He jabs his friend in the shoulder. "You know what I hear? Flute players are queer."
The lonely boy moves a little faster, willing himself to disappear. You can do this . . . just get past them . . . get to class.