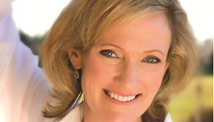 Editor's Note: New York Times and USA Today bestselling author Karen Kingsbury is America's No. 1 inspirational novelist. Dubbed the Queen of Christian Fiction by Time Magazine, Karen has written more than 50 of her Life-Changing Fiction ™ titles and has nearly 20 million copies in print.
By Karen Kingsbury, Special to CNN
Can you see him?
The figure of a lonely kid straggling down the hallway, hunched over, hiding behind the bulk of his backpack. Hair in his eyes. He passes the jocks, the cool kids, and someone spots his flute case, the one tucked under his arm.
"Look at him," one of the guys sneers. "Here comes the flute player!"
A round of cruel laughter ricochets down the hallway. "Flute player?" another guy makes a face. He jabs his friend in the shoulder. "You know what I hear? Flute players are queer."
The lonely boy moves a little faster, willing himself to disappear. You can do this . . . just get past them . . . get to class.
"Hey wimp!" The shout comes from the biggest one. "Where you going? Lookin for another flute player?"
From the opposite direction, four pretty girls walk together. They start to giggle, stopping to bat their eyes at the big-shouldered boys. In unison they turn and scowl at the shadowy figure, the outcast. The flute player.
I see him.
I named him Michael Schwartz in my novel Unlocked that releases October 12 – in the midst of National Bullying Prevention Month. Unlocked is about autism, and the miraculous power of friendship. Michael is not a major character in my book and he would not be a major character in life.
Kids that are bullied never are. Not until they become a statistic, a headline in a newspaper, a reason to shake our heads and wonder what in the world we are doing wrong if our kids are jumping off bridges and hanging themselves and putting guns to their heads instead of facing their reality.
Michael was a nice kid. Split his time between his divorced parents' houses, played flute for the school orchestra, did his homework, kept to himself. Kids at school knew Michael was being bullied, but they did nothing. They said nothing. Better to laugh along with the bullies than have them turn on you.
Bullying is epidemic today.
Insecure loud-mouth kids willing to get attention at the expense of someone else – someone different, an easy target. In today's social media-centric world, bullying has advanced far beyond mocking in the hallways or being left out in the lunchroom. Today it lives in a cyber world. It's a live-video feed on Twitter or a text message spread like a bad virus among a teen generation whose prurient interest knows no bounds.
As Michael came to life, I read case studies and watched Youtube clips on kids who didn't make it out of their bullying nightmare. I checked out the U.S. Department of Health and Human Resources page on bullying and found thoughtful messages.
Carefully crafted cartoon webisodes and tipsheets and PSA's for kids who are victims and their often helpless parents. Lend a hand . . . take a stand. Tenets our kids would do well to adopt.
But still, very clearly, something is missing.
In a culture saturated with graphic imagery and sensory overload, and set against a political and entertainment arena that has consistently devalued life and faith, it seems our youth have reached a chilling conclusion – a mantra no public service announcement can quickly fix.
Very simply, our kids don't care.
The answer is one you won't find on any of the anti-bullying websites. For me the answer is love … it's been the answer all along and it comes from the teachings of Jesus Christ. Jesus taught us to love one another . . . to consider others better than ourselves. The greatest commandment, He said, is to love.
It's trite and clichéd at this point in the discussion to cast aspersions at the church, accusing believers of being intolerant and the general cause of all meanness. Exceptions exist, but I live and work and move among people who claim faith in Christ, and I can tell you this:
For the most part, they know how to love.
They accept weaknesses and imperfections in themselves and others, and allow an overriding dose of God's love to define them and their purpose. The command of Jesus to love one another is needed more today than ever. Love one another as I have loved you, Jesus said. And so we should.
Michael Schwartz lived only in the pages of Unlocked. He lived there and he died there because no one at his high school cared enough to love him. It's time to live out our faith, the faith this nation was founded on.
Maybe in an era where kids are dying for lack of love, we might together revere a God who taught us this simple truth.
Love one another. For now these three remain . . . faith, hope, and love.
But the greatest of these is love.
The opinions expressed in this commentary are solely those of Karen Kingsbury.