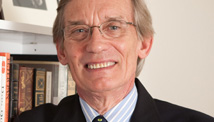 Editor's note: Michael Coogan is a lecturer on Hebrew Bible-Old Testament at Harvard Divinity School, professor of religious studies at Stonehill College, and director of publications for the Harvard Semitic Museum. Editor of "The New Oxford Annotated Bible," his most recent book is "God and Sex: What the Bible Really Says" (Twelve).
By Michael Coogan, Special to CNN
When talking about so-called family values, pastors, popes, and politicians routinely quote the Bible as if it were an unassailable divine authority - after all, they assume, God wrote the Bible, and therefore it is absolutely and literally true.
But that is a misconception. As the Bible itself makes clear, its authors were human beings, many of whom are named: David, Isaiah, Luke, and Paul. These human writers wrote over the course of more than a thousand years, and their writings reflect their own views and the values they shared with their contemporaries, so not inconsistencies are frequent in the Bible, both trivial and profound.