Editor's Note: CNN Correspondent Kate Bolduan and Belief Blog Co-Editor Eric Marrapodi bring us this story from Dunnellon, Florida.
Sparks are flying as we walk into the airplane hanger. Steve Saint is sharpening a machete on an electric grinder.  He comes over to introduce himself wielding the knife he extols as both a tool and a weapon. But we've come to talk about something else he is working on, a flying car.
Saint heads i-tec, the Indigenous People's Technology and Education Center. He is working with the Waodani tribe at the edge of the Amazon in Ecuador to help them solve a transportation riddle plaguing hard to reach regions all over the world: What do you do when the road ends? His solution, build a flying car. So he and his team did.
See video of the flying car in action here.
While we were getting the tour of the workshop, officials with the Federal Aviation Administration were in the back office with i-tec's engineers going over the final paperwork for the Maverick. By the end of the day, Saint held in his hand the FAA certification for special airworthiness for a light sport aircraft, the first such certification for a flying car. (A vehicle called The Transition is similar, but it's not a flying car. It's a roadworthy plane, meaning it's a plane that can also be driven on the road with its wings folded. Read about The Transition here.)

Saint is one part Christian missionary, one part pilot, one part inventor.
He grew up living in Ecuador. He tells us that his family moved there after the Waodani Indians speared his father to death. His dad, Nate Saint, a pilot, was part of a group of Christian missionaries trying to make contact with the tribe. They did, and according to the younger Saint, paid the ultimate price. Saint's family didn't give up trying to make contact with the tribe.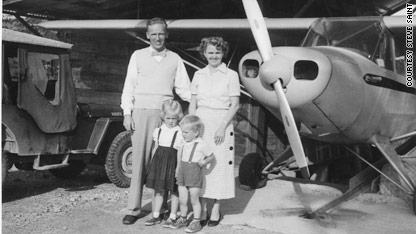 "I was just a little boy when my dad was killed, but I knew that my dad really cared enough about those people that he was willing to risk his life so that they wouldn't be killed by the oil company and the government," he said.
Eventually his aunt Rachel was able to make contact again and live with the tribe.
"The only sense I could make of that was my dad thought these people were really special people, and my aunt wanted to live with them, mom was praying for them. By the time I met them I was convinced these were the most special people in the world. And then one of the warriors, actually a man by the name of Minkai, he adopted me, and started treating me like on of his boys, because he realized having speared my father I didn't have anyone to teach me how to live, so he taught me the skills I needed, you know, blow gunning and making spears."
Eventually Saint went away to school, built a career in the United States, and married a girl from Minnesota.
In 1994 his aunt Rachel died. The family honored Rachel's request to be buried in Ecuador. The tribe told Saint it was time for him to return. Saint and his family agreed and went back to live in the jungle.
The tribe asked Saint to teach them to fend for themselves rather than have to depend on outside aid to survive. Out of that grew the small Florida based non-profit that today is i-tec.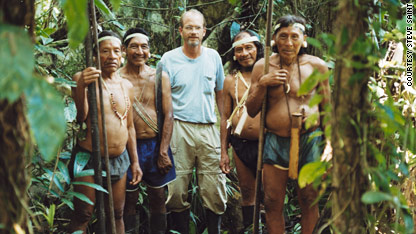 "What we're doing here at I-Tec is we're reinventing the technology so it fits the people so that they don't have to become like us," Saint said. "And it's taken a while. I retired from business 16 years ago, and people don't pay you to do this, and my wife Ginny and I just decided, 'hey let's do this.'"
The Maverick flying car is just one piece of the puzzle for I-Tec. "We've been working on this particular project for six years," Saint said. "But it's just one, the bigger thing that we do is developing health care technology and tools and training systems so that we can train people that live out in the jungle areas, that don't have any formal education, and don't have access to doctors or nurses or midwives, or optometrists, or dentists, teaching them how to take care of these needs for their own people. That's really what we're doing."
Scattered around the shop are some of the innovations. They developed portable dentistry equipment that can be carried on your back through the jungle. They also created a hand bike designed to help the handicapped conquer difficult terrain in areas where a wheelchair won't work. But the pièce de résistance is by far the Maverick.
I-tec experimented with several different versions of the powered parachute to take the car from the road to the air.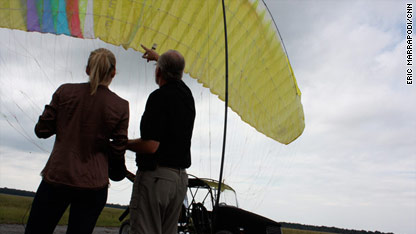 To switch from drive-mode to fly-mode, the operator has to deploy a mast and parachute. The chute is tucked away on the roof for the car and the mast is underneath the chassis when the car is in drive mode. The mast locks into place, the parachute is attached, and it is raised to over 25 feet. All the driver has to do then is switch the motor from drive to fly, pull back 100 yards, and take off.
When they sat down at the drawing board, Saint and his team had two goals for the vehicle in addition to flying: It had to be rugged enough to drive in the jungle and cheap enough that non-profits like his could afford one.
The Maverick is rugged. Saint took us for a spin around the airport where i-tec is based. It rides like a car on the road and bounces like a dune buggy off road. Its structure is chromoly-steel tubing and the black skin of the vehicle is canvas. That, in combination with the fact the car propulsion and air propulsion use the same engine in the rear of the vehicle, makes the Maverick extremely light. It is half the weight of a Smart Car.
"The Maverick is not only a practical flying car but it's also a beefy car," says Logan Ward from Popular Mechanics. "They put a Subaru engine in this thing with 250 horsepower. It goes 0 to 60 in 3.9 seconds.We were really impressed they gave it that sort of on-road performance."
Popular Mechanics gave the Maverick one of its 'Breakthrough Awards' in 2009 after Ward wrote a piece about the prototype. "This thing is poised to hit the market. They have plans to sell it, to manufacture it. They have a price tag. This is becoming a reality where so many flying cars have just been pie in the sky toys for billionaires," Ward told CNN.
I-tec hopes the Maverick will go into production soon now that they have secured FAA certification for flight and road certification as a kit vehicle (the Maverick has a Florida license plate that reads "FLY CAR"). Saint says if they can manufacture about 100 per year, a job they will send out to a manufacturer, they think the price will be around $80,000 for each Maverick.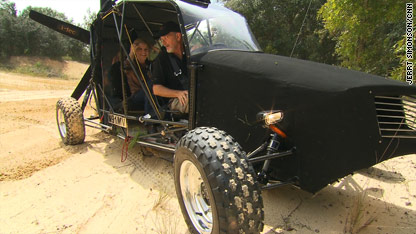 Saint wants to get the price down and believes the commercial market is the best way to reduce the cost. "The commercial market will get the quantities up to get the cost down. Plus we're a non-profit company so we don't live to make a profit, but if the commercial market is successful we'll use that for more research and development and to make these available to people in frontier markets - people who don't have the resources to buy it at a commercial rate," he said.
Saint thinks there are hundreds of commercial applications for the Maverick. ."You can take it on really rugged terrain. So with this one, you can fly over, find somebody that needs to be rescued, and you can land and drive to them," he said.
"Border patrol, pipeline monitoring, out on the gulf, BP with the big oil slick.  You could take off from the back of the fishing trawler. Get the fishing trawler going 20 miles an hour, and you could take off in about 20 feet, and then you could go out, what you can't see from the surface you can see from 1000 or 2000 feet. You see a huge expanse. Ranching and extreme sports - there's just all kinds of uses. I'm sure we'll be surprised by the uses people put this to."