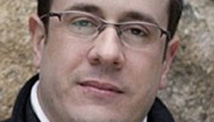 By Jeff Sharlet, Special to CNN
Editor's note: Jeff Sharlet is the author of "C Street: The Fundamentalist Threat to American Democracy," published by Little, Brown, and "The Family: The Secret Fundamentalism at the Heart of American Power." He is a contributing editor for Harper's and Rolling Stone and teaches creative nonfiction at Dartmouth College.
The question of whether the Tea Party will have a real impact on American politics (yes!) has evolved into a new debate: Is the Tea Party really about more than taxes?
Glenn Beck, who invokes the semi-mythical "Black Robe Brigade" - fighting preachers he claims led the American Revolution - as a model for a new generation of activists seems to think so.