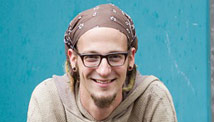 Editor's Note: Shane Claiborne is an author and activist and one of the architects of a community in Philadelphia called The Simple Way. Shane worked in India alongside Mother Teresa and spent time in Iraq with the Christian Peacemaker Team during the recent war. His books include Jesus for President, Follow Me to Freedom, and the best-selling Irresistible Revolution. Check out more at: www.thesimpleway.org.
By Shane Claiborne, Special to CNN
The Church has often been better known for building walls than for tearing them down.
Too often, we Christians are known by what we are against rather than by what we are for. So it was a proud moment for me this week, as a Christian, when leaders of the Catholic Church made an unambiguous statement calling for an end to the Holy Land apartheid.
After a two-week meeting summoned by the Pope, Catholic bishops issued a statement asking Israel not to use the Bible to justify injustices to the Palestinian people. Thanks be to God.
A few months ago, I was able to take a pilgrimage through this ancient, holy land – traveling through Israel, the Palestinian territories, Jordan and Iraq. We stayed in the homes of Palestinian Christians and met with Israeli settlers.
We met with Jewish folks committed to stopping the home demolitions of Palestinians, and we met with Israeli soldiers who refused orders they deemed unjust. We saw some of the most beautiful and some of the ugliest things I've ever witnessed. There are a few things that have left a mark on my soul as I have visited the area over the years.
One of them is a worship service I participated in about seven years ago, with Christians from all denominations who met to pray for peace amidst the spiraling violence of the Iraq war. Christians from Israel, Palestine, Jordan, and Iraq sang the Lord's Prayer in their own language, and sang "Amazing Grace" in Arabic.
Then they led us to the cross and spoke of how the central message of the cross is grace, love, and reconciliation. It is about God's love being so big he died, even for his enemies, and now we are to join this revolution that is big enough to set both the oppressed and the oppressors free of hatred and discrimination.
I was so moved, I had tears rolling down my cheeks as I spoke with one of the organizing bishops. I confessed to him that I was amazed to see so many Christians from Iraq and Palestine. He responded with a humble smile, "Yes, brother, this is where it all began."
We had a good laugh together, but then he went on to tell me that these are urgent times when we need the Church to be the Church – and to remember that we are people of reconciliation and peace in a world infected with violence and prejudice.
It was in the Holy Land a few weeks ago that another priest told us, sadly, if Jesus had tried to make his walk from Bethany to Jerusalem today, he wouldn't be able to make it through the checkpoints.
We lamented together the wall that so terribly divides this Holy Land.
As I walked the footsteps of Jesus through the land, I was reminded of a story Jesus told about a wealthy man who built a wall and locked the poor outside of it, a story often known as "the rich man and Lazarus." Both the rich man and the beggar die outside his gated estate.
The beggar (whose name means "the one God rescued") is saved, brought into heaven, and seated next to Abraham. The rich man finds himself in a lonely, isolated hell, and ends up asking Lazarus for compassion.
The story is loaded with irony, sass, and imagination. One of the interesting things about the story is that the rich man is very religious and knows all about Abraham and the prophets, but his religion had done very little when it came to the compassion folks were starving for on the streets.
The climax of the story is that Jesus exposes one of the incredible truths about walls – not only do they lock others out but also they lock us in. Not only are the poor robbed of community and compassion, but also so are the rich.
One of the most important things I learned in the Holy Land is that both Israelis and Palestinians are being held hostage – they are both locked behind walls. I heard folks on both sides say they didn't care if the solution was one state or two state or no state – as long as all people were treated equally and with dignity.
The great thing is that walls are never too big to fall. First there was Jericho. Then Berlin. And now Palestine.
One of the promises of Jesus in the Gospels is that the gates of hell will not prevail. I don't think he was saying there is no hell but I do believe he was saying that there are hells today that hold people hostage. We should be storming the gates to rescue them. And as we do it we will discover that when the walls fall down – both Lazarus and the rich man are better off.
Today, I am proud to be a part of a Church that is not simply building up more walls – but tearing them down.
And in the New Jerusalem, the great City of God, "on no day will its gates ever be shut" (Rev. 21:25). The gates of the kingdom will forever be open.
The opinions expressed in this commentary are solely those of Shane Claiborne.