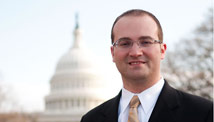 Editor's note: Aaron Mercer serves as director of the National Association of Evangelical's sanctity of life efforts. Prior to joining the NAE, Mercer spent over seven years in the office of Sen. Sam Brownback (R-Kan.), where he was a leading voice among congressional staff for finding creative avenues to honor the sanctity of all human life, particularly in its most vulnerable stages, and to promote the development of healthy families.
By, Aaron Mercer, Special to CNN
With less than four days before Election Day, political campaigns are in full swing and their messages are all around us. One subject campaigns either passionately desire to engage or eagerly seek to avoid is abortion. The very word stirs deep feelings in many.
What is too often missed is that abortion is not only an idea; it is a very real, everyday problem in our communities. The National Campaign to Prevent Teen and Unplanned Pregnancy reports that approximately half of all pregnancies are unplanned, and more than 40 percent of these 3 million annual unplanned pregnancies are aborted.
This accounts for the vast majority of America's million-plus abortions every year. And it's not just a teen problem. According to the Guttmacher Institute, over 80 percent of women having abortions are adults.