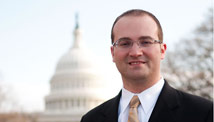 Editor's note: Aaron Mercer serves as director of the National Association of Evangelical's sanctity of life efforts. Prior to joining the NAE, Mercer spent over seven years in the office of Sen. Sam Brownback (R-Kan.), where he was a leading voice among congressional staff for finding creative avenues to honor the sanctity of all human life, particularly in its most vulnerable stages, and to promote the development of healthy families.
By, Aaron Mercer, Special to CNN
With less than four days before Election Day, political campaigns are in full swing and their messages are all around us. One subject campaigns either passionately desire to engage or eagerly seek to avoid is abortion. The very word stirs deep feelings in many.
What is too often missed is that abortion is not only an idea; it is a very real, everyday problem in our communities. The National Campaign to Prevent Teen and Unplanned Pregnancy reports that approximately half of all pregnancies are unplanned, and more than 40 percent of these 3 million annual unplanned pregnancies are aborted.
This accounts for the vast majority of America's million-plus abortions every year. And it's not just a teen problem. According to the Guttmacher Institute, over 80 percent of women having abortions are adults.
True, Americans continue to be divided on whether or not abortion should be legal. (Full disclosure: I am a longtime member of the pro-life "camp," as is my employer, the National Association of Evangelicals (NAE)).
However, most are troubled by its prevalence in this nation. A recent Gallup poll commissioned by the NAE found that nearly 9 out of every 10 evangelicals believe abortion is a serious problem in our country and that it should be an important priority for our nation to work together to reduce the number of abortions.
This survey showed significant majorities supporting a wide range of possible approaches to decreasing the abortion rate – from parental consent and waiting periods before abortions to efforts at making adoption, pre- and post-natal care, and contraceptive services more accessible. (Incidentally, in this poll and in another survey of evangelical leaders, approximately 90 percent of respondents approved of artificial contraceptive methods for adults. The vast majority also believed that sex only rightfully belongs in marriage).
The NAE, which represents over 40 denominations, scores of evangelical organizations and millions of American evangelicals, recently launched a new initiative, the NAE Generation Forum, to encourage discussion on this subject and to explore practical approaches for curtailing the high abortion rate.
Our goal is to bridge the divide between longtime opponents in the debate over the legality of abortion and to work together to dramatically reduce the incidence of abortion in the United States. We believe this can be done without compromising our core convictions by working to create dialogue over shared concerns for human dignity, protecting children and promoting healthy families and communities.
In light of this goal, we are faced with difficult questions: Why is abortion so prevalent and what can we practically be doing about it? How can we reach out to women with unplanned pregnancies in relevant and respectful ways? How we can we help them avoid such a potentially distressing situation in the first place? How do we honor and uphold the value of human life in more than challenging circumstances?
The Generation Forum is developing resources and hosting events across the country particularly focused on helping local churches grapple with how to lower the number of abortions in their congregations and communities.
For example, understanding the inherent link between respect for God's gifts of sex and human life, the Generation Forum designed a publication, "Theology of Sex," to help church leaders create healthy dialogue about God's intentions for sex.
Abortion is a real course chosen over a million times a year. Churches and communities need to actively wrestle with this challenge up to and beyond November 2. Through the Generation Forum the NAE wants to creatively engage this problem and encourage a culture that celebrates and supports all human lives.
The opinions expressed in this commentary are solely those of Aaron Mercer.