Editor's Note: Laura Silver is a freelance journalist and knish researcher. You can follow her on twitter @knishme.
By Laura Silver, Special to CNN.
"You're cheese?"
"A smushed banana?"
"A bunch of mustard?"
The brunch crowd outside the Mile End Delicatessen in the Boerum Hill section of Brooklyn was getting warmer.
"I'm a vehicle for mustard…" I egged them on, revealing the white boa around my waist, "filled with fluffy mashed potatoes…"
A square of yellow foam enveloped my torso, shoulder to shoulder, neck to shins. I wore a golden, rumpled t-shirt on my head and sunglasses to shield my eyes.
"Something you can get at a Jewish deli…," I hinted.
They guessed it:
A Knish.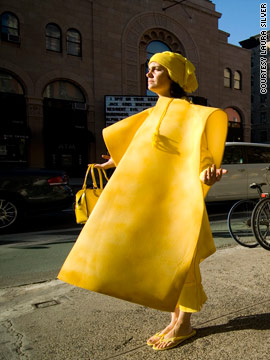 Knish, one syllable with a non-silent "k."  My mission was to break the silence on the history of the pastry pocket and re-insert it into the New York landscape, where it rose to fame in the early 1900s. The hot pocket — baked or fried and filled with mashed potatoes or meat or sweet cheese — arrived on American shores with Jewish immigrants from
the Pale of Settlement and gained a foothold on the overcrowded Lower East Side and the boardwalks of Coney Island.
I saw other foodstuffs parading around Brooklyn: a bunch of inflated lavender grapes, a banana with muscular calves and a slice of full-length, homemade cherry pie, with a "pi" sign on her back, to clear up any possible misunderstandings.
It's not that simple with a knish. I had a dastardly time explaining my costume to a 2-year-old princess in a leopard coat — "It's like an empanada," her adult companion, explained — but those in the know appreciated the nod to cultural and gastronomic history.
"You should have a sign that says 'Mrs. Stahl's," suggested a non-costumed passerby of a certain age. She was referring to the bygone knish shop that occupied a storefront in Brooklyn's Brighton Beach for 70 years. In 2005, it was replaced by a Subway sandwich franchise.
Meanwhile, an Italian pasta maker in Southern New Jersey had purchased Mrs. Stahl's recipe and churned out knishes in his specially-koshered kitchen.
I'm not a fan of costumes with identification labels, like the plastic Mickey Mouse suit with the rodent's full name emblazoned on his chest, but my get-up could probably benefit from an explanation.
Carbs of David
I've found accounts of knishes served on Friday nights in shtetls, flourless ones produced on Passover and cocktail-sized iterations used to confer special blessings at bar mitzvah receptions. But, in the spectrum of modern-day Jewish food, the knish has no affiliation to a particular holiday.
Or so I thought.
My grief over Mrs. Stahl's expanded into a period of knish-searching that brought me to Poland. I learned that a beloved great aunt was born in the town of Knyszyn (sounds like knishn) and took that as an
omen to keep searching for the history of the food — it's a good counterpart to scouring archives for traces of obliterated towns and ancestors.
On a trip to Warsaw for the Singer (as in Isaac Bashevis) Festival of Jewish Culture, I hovered around a concession stand that served beer with raspberry syrup and pork-sausage pinwheels. Festival goers exhibited familiarity with schnapps and carried boxes of matzoh (it was September), but no sign of knishes.
Agnieska Kręglicka, a restaurateur active in Poland's Slow Food movement, put me in touch with Polish-born Jews who remembered homemade, hand-rolled potato knishes of their youth. She introduced me to a restaurant critic who had witnessed knishes served on All Saint's Day, a major, somber, national observance. In Poland, the streets go
silent and the country's overwhelmingly Catholic inhabitants (96 percent) flock to the graves of their people.
Knyszyn is home to a 1750s Jewish cemetery that survived World War II, but none of my relatives — that I know of — are interred there. Plus,it would be too far to travel for the day.
My nana, may she rest in peace, is buried in New Jersey; her Knyszyn-born sister was laid to rest in Florida; and their parents are in Washington Cemetery, near the elevated train that dissects the center of Brooklyn.  Even if it were my tradition, visiting all those graves in a single day would be logistically complex.
Instead, I wore the yellow suit. To honor their memories, serve up some humor and infuse Jewish flavor into the pagan- and Christian-derived holiday that used to leave me with a weird taste in
my mouth.
The opinions expressed in this commentary are solely those of Laura Silver.