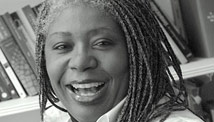 Editor's Note: Anthea Butler is Associate Professor of Religious studies at the University of Pennsylvania and is an expert on Black churches, evangelicalism and the religious right.

By Anthea Butler, Special to CNN
The focus throughout the mid-term campaign has been on the Tea Partiers and predominately white religious communities supporting Republican or Tea Party Candidates. What about other religious communities of African Americans and Latino's? These constituencies, facing immigration issues, foreclosures, and high unemployment levels, have social issues requiring urgent action.
For Latino and African American Voters of faith, the traditional appeal to values voting or litmus tests applied to candidates are not the sole means of vetting candidates.
Social concerns often drive voting from these religious communities.
In the present economic and social climate, many of these voters are looking for different values, based in community care, uplift, and long-term social solutions. Many of these concerns are often based in religious practices. Examples are days of prayer and fasting for immigration reform, food banks, and programs to assist immigrants. Yet each of these ethnic communities will deal with the 2010 vote in different ways.
Latino voters of faith in Nevada, Arizona and California and Florida could tip the scales between Democratic, Republican, and Tea Party candidates. The small gains the Republican Party previously made within the Latino community have been washed away with strict platforms on immigration and amnesty.
The hard line against immigration clashes with Catholic and some mainstream Protestant beliefs, found in the bible, about showing hospitality to strangers.
Despite candidate pleas to morality and values voting, Latino's are for the most part, breaking away to vote with candidates who favor some type of immigration reform that will protect those who are not legal citizens. Incidents such as Carly Fiorina's repudiation and firing of her maid, along with Sharon Angles' campaign commercials depictions of Latino men illegally crossing the border, have helped to mobilize Latino churches for voter registration drives.
Similarly, Latino candidates themselves cannot count on "affiliation" voting. Marco Rubio's close connections to the Tea Party could alienate Latino voters from him, despite all of his outreach efforts.
For African American churchgoers, get out the vote efforts have been in effect in full force and from the pulpits of churches across the nation.
President Obama began making a pitch to Black voters in September when he gave an impassioned speech to the Congressional Black Caucus to mobilize Black voters for the for the midterm elections. Yet the wholesale acceptance of Black voters for Obama in 2008 may not translate fully into the 2010 election.
Testing the long-standing coalition between candidates, black pastors, and the congregations, the 14 Black Republican Candidates in the midterms could peel some black voters away from the Democratic Party.
In Florida, Kendrick Meeks may not be able to count on votes from African Americans because of the rumors surrounding being asked to withdraw his name from the race. Pastors of congregations hoping for political clout, will not back a candidate who is running last in a three-man race.
The biggest issue facing the African American community of faith is voter apathy. Voters beleaguered by issues of debt, unemployment, and foreclosures are not apt to find solace in candidates who are not providing solutions to these pressing community issues.
The coalition of black churches in urban communities can no longer be counted on for block Democratic votes, and despite the president's pleas, he may find that his most loyal constituency will not be able to bring significant wins to the Democratic column come Tuesday.
Wednesday morning will be a very different situation in both communities, and how these communities vote will be crucial to the results.
The opinions expressed in this commentary are solely those of Anthea Butler.