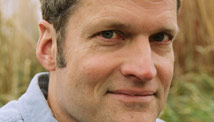 Editor's Note: Stephen Prothero, a Boston University religion scholar and author of "God is Not One: The Eight Rival Religions that Run the World," is a regular CNN Belief Blog contributor.
By Stephen Prothero, Special to CNN
Just a thought, but is it possible that perhaps our current economic catastrophe isn't really the Democrats' fault? Or even the Republicans? Is it possible that the fault is our own?
Last month I participated in a conversation with Andrew Bacevich, a professor of international relations and history at Boston University, and the author, most recently, of Washington Rules:  America's Path to Permanent War (2010) and The Limits of Power: The End of American Exceptionalism (2008).
The event that brought us together was called "Are Americans God's Chosen People?"
What lingers from the conversation was Bacevich's refusal to pin the blame for our failed foreign policy exclusively on our politicians and commanders in chief. Much of the blame, he argues in each of his most recent books, lies at the feet of the American people.
Who stood idly by while our leaders ordered our troops into Iraq and Afghanistan? Who let President George W. Bush get away with his dangerous doctrine of "preventive war"? Us and us.
All of this makes me wonder whether our current economic woes can be placed squarely at the feet of either Obama or Bush or the U.S. Congress.
After all, we are the ones who ran up our credit cards. We are the ones who took out mortgages we could not afford. We are the ones who sat idly by while our representatives deregulated the financial system. And, as Bacevich points out, we are the ones who nodded yes and refused to ask "how much?" as we advanced in the name of all that is good and godly into Afghanistan and Iraq.
Now we are as mad as hell that Obama and the 111th Congress haven't fixed in less than two years a catastrophe that was a generation in the making. And if unemployment remains high two years from now we will doubtless blame the do-nothing Republican House for doing nothing to fix it.
During my public conversation with Professor Bacevich last month, I pointed out that, in the colonies and the early republic, Americans conceived of themselves as participants in a covenant with God.
This covenant, however, was conditional. If we pursued justice and mercy then God would bless us. But if we turned our backs on one another and pursued our own selfish ends then God would curse us.
Or, as Governor Winthrop put it in his famous sermon aboard the Arabella:
"We must consider that we shall be as a city upon a hill, the eyes of all people are upon us;  so that if we shall deal falsely with our God in this work we have undertaken and so cause him to withdraw his present help from us, we shall be made a story and a byword through the world . . . till we be consumed out of the good land whither we are going."
Notice that Winthrop is blaming no one other than his people. He is not blaming the Indians or the French or the Spanish. He is not blaming the Democrats or the Republicans or Obama or Bush or Muslims or immigrants. As he looks forward to some possible catastrophe, he anticipates blaming himself, and his people: us.
This, it seems to me, is a voice of maturity. The voices I hear today, in both political parties, are voices of adolescence.
Both parties decry the ballooning deficit, but the Republicans are unwilling to raise taxes and the Democrats are loath to cut spending. And I can count on one hand our senators and representatives who are on record as willing to go after any real cuts in the only place where there are real cuts to be had:  in entitlement programs.
So what we get from both sides of the aisle is a sort of anaesthetic journey into the land of make-believe, punctuated every two years by a spasmodic dance of anger and hope - anger at anyone who reminds us that the world is not the sort of place our fantasies insist it must be, and hope in anyone who offers up a new fantasy.
This anger/hope/repeat cycle is likely to repeat itself until we American citizens wake up and start taking responsibility for our own problems, and our own dreams. Barack Obama is not the Messiah. The last two years have taught us that.
But the next two years will show us that neither is the Tea Party.
We got into this economic mess through our own profligacy. The only way out of it is through our own sacrifice. But don't expect to hear it from either party, because in American elections the idea of a covenant to which we are responsible won't sell. Hope and anger do.
The opinions expressed in this commentary are solely those of Stephen Prothero.