Editor's Note: CNN's Phil Gast brings us this story.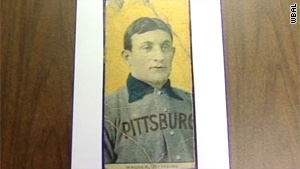 Years after his death, baseball legend Honus Wagner hit a home run for a group of nuns, who will use proceeds from the sale of his extremely rare baseball card to do charitable work.
Texas-based Heritage Auctions conducted the internet auction, which concluded Thursday night with a winning bid from Doug Walton, whose family owns seven stores in the Southeast specializing in sports cards and collectibles.
"I have been in the market for this card for a long time," Walton told CNN. "It is the Mona Lisa of baseball cards."
Walton paid $262,900, Heritage said, with $220,000 of that going to the School Sisters of Notre Dame. The card's price beat initial estimates by $162,900.