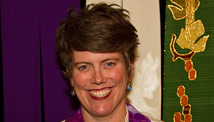 Editor's Note: The Rev. Rebecca Voelkel is the Faith Work Director of the National Gay and Lesbian Task Force.
By Rev. Rebecca Voelkel , Special to CNN
Two simultaneous and seemingly competing responses are evoked from this election cycle: deep disappointment and clarity about the desperate need for respect.
The disappointment is not a partisan streak, but rather springs from the reality that an electoral winner this week was the radical religious right. While much of the credit was given to the Tea Party movement, the reality is that the political victory went to those whose stated goal is the creation of a "Christian Nation."
As a Christian pastor, I am clear that this goal is dangerous — to the heart of Christianity, to this nation and to anyone who doesn't fit the mold of the "right kind" of citizen.
When U.S. Sen. Jim DeMint (R-S.C.), a Christian Nation proponent who won by large numbers, declares during campaigning that gay people and single mothers shouldn't be school teachers, we are in danger.
When U.S. Rep. Michele Bachmann (R-Minn.), who won the most expensive House race in the country, supported insertion of "Creationism" and "12 Christian principles" (akin to the Ten Commandments) in the curriculum of a public charter school whose board she served on, we are in danger.
And when Christian Nationalist thinking and rhetoric attempt to become the law of the land (which these candidates have promised they will attempt to do), we are in danger.
It is corrosive to Christianity to be used to deny the humanity and civil rights of anyone. And it is detrimental to a democracy built upon the values of liberty and justice for all to qualify who the "all" is.
But as a Christian pastor, I am equally called to nonviolence and deep respect for the humanity of all people. This is a paradoxical impulse given what I believe is at stake. But, perhaps, it is not at all paradoxical.
Especially in these times, we desperately need voices — religious voices — to speak on behalf of respect, pluralism, civility and nonviolence. When rhetoric of a qualified justice, a qualified humanity fill the airwaves, religious voices of unqualified justice, unqualified love, unqualified respect must be raised in song, in prayer, in preaching, in politics.
It is these voices that give me hope today.
Like the United Methodist pastor from Bowling Green, Ohio, who refused to let the campaigning lie that transgender people were a threat to the community go unchallenged, but who, instead, stood before a press conference and declared the beloved humanity and gift to this country of its transgender citizens.
Or the Roman Catholic nun who consistently and passionately speaks of the sacredness of the lives of those who are undocumented workers living in Arizona.
These voices must be raised even as we must affirm the full humanity of those whose words and actions seek to lessen the humanity of others. It is these that challenge me this day: clarion call for unqualified justice and paradoxical plea for respect. Yet, our democracy requires nothing less.
The opinions expressed in this commentary are solely those of Rebecca Voelkel.