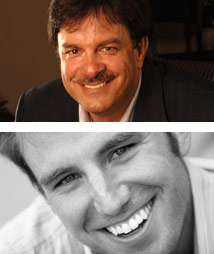 Editor's Note: Tim Clinton, President of American Association of Christian Counselors, and Joshua Straub, an adjunct professor at Liberty University, are the authors of God Attachment.
By Tim Clinton and Joshua Straub, Special to CNN
A few weeks ago, Christopher Hitchens was interviewed on CNN. A renowned atheist who has recently been diagnosed with cancer, Hitchens told Anderson Cooper, "If you hear that I came to God on my death bed, don't believe it."
We were stunned. Why? Because a growing body of research shows that from an early age we are hardwired for a relationship with a "Transcendent One."
For Hitchens to willfully decide that he will fight off or deny any future existential longing he may develop for God - or shut out any evidence he comes across in favor of God - is grievous.
Though it seems that America is tired of religion, we're finding quite the opposite about a relationship with God. A recent Newsweek poll found that 91 percent of American adults claim a belief in "God", while Time magazine reported that 85 percent identify themselves as Christian. Gallup reports that 73 percent of Americans "are convinced that God exists."
People want more of God, not less.
Yet in their spiritual thirst, many people hit a wall when faced with a crisis in life: a cancer diagnosis, a divorce, a car accident, a natural disaster or a job loss. Too often, they feel distant from God and have a hard time believing he will be there for them when they need him most.
Either that or they turn to God in prayer more than ever before, but end up disillusioned when he doesn't come through in the ways they had hoped.
An exciting new body of research on attachment is adding to our understanding of why we feel "close to" or "distant from" God. This theory of relationship understanding and emotion goes beyond a legalistic religious obligation to maintain good standing with God. It's becoming a powerful way of comprehending how we can better relate to God and experience his grace on a daily basis.
For many who claim to be Christian, much of modern-day thinking about how to connect with God has been reduced to a theory of sin management - that what we do or don't do in our daily lives is the gauge by which we measure why we are, or are not, close with him.
The truth is that many who leave the faith or turn away from God do so because they have come to realize that this mindset led to nothing more than a shallow or empty relationship with God.
Attachment theory helps us understand our misconceptions about who God is and how we approach a relationship with him. The problem isn't God; it is the way we view him and act toward him.
Our spiritual journeys are linked to core relational beliefs established early in life based on how we've learned to perceive ourselves and others in our closest relationships. In fact, we believe everyone reading this blog has a relationship style that affects their relationship with God and significant others.
We are not trying to establish religious beliefs. We're also not saying that sin doesn't create distance with God. What we're trying to do is to help people understand more fully the nature of how their relationship style infects or affects how they relate to God.
There are four kinds of attachment or relationship styles developed from our core relational beliefs, which are or aren't formed within the context of safe, close, affectionate and secure bonds.
These styles reveal whether we believe we're capable of getting the love and comfort we desire and how much we trust others to be accessible and available in moments of need. They also shape our expectations about how God will relate to us, especially during times of need. We break down the styles in our book God Attachment:
Secure: a positive view of self/a positive view of others
Avoidant: an overly inflated view of self/a negative view of others
Anxious: a negative view of self/an over inflated view of others
Fearful: a negative view of self/a negative view of others
When we're faced with stress, we seek closeness to those we feel safe with. Each one of us exerts specific behaviors to help us get closer to those we're attached to in times of need.
If we don't feel safe; if we are confused in our core beliefs about whether we're worthy of love or whether others are capable of loving us or accessible when we need them, then we'll transfer those beliefs onto God and struggle to believe he could really be there for us.
But if God serves the functions of an attachment relationship in our individual lives, it can be the difference between cognitively believing in God, as most do, and emotionally connecting, trusting, and walking with him every day, which is much less common.
If you came from a dysfunctional family and stopped reading now, you might be tempted to believe that it is impossible to have a genuine relationship with or healthy view of God. But the good news is that research supports the notion that those with insecure relationship styles can and do find a close, secure relationship with God as they turn to him and discover he is not like other attachment figures who have hurt them in life.
Perhaps it's time to challenge our beliefs about God (if we've seen him as disinterested or unavailable) and re-evaluate our own identity (if we tend to see ourselves as hopeless or unlovable). Finding hope and meaning doesn't happen overnight. There's no magic prayer or verse that will heal the wounds we've experienced. We need to be honest with ourselves, grieve our losses, repent of our own wrongdoings, forgive those who have hurt us, and learn new relational skills.
Just like any other relationship, building intimacy with God requires vulnerability. Honesty. Time. Prayer. Focus. Listening. Journaling. Reading the Bible. Meditating.
Remember, the goal is to connect with God, and get to know him for who he really is. This often requires peeling off layers of false core relational beliefs.
When we understand our relationship with God in light of attachment research, we begin to realize how our unhealthy preoccupation with anxiety, fear, guilt, or self-punishment may actually be shutting out the love and healing we truly long for.
God is not like your mother, your father, your spouse, your ex, or any other human that failed, abused, or abandoned you.
If you're from a secure background, God also cannot be the God of your father or mother. Your relationship with him must become personal. When you connect with God, and begin to grasp who he really is, you begin to build the most vital relationship in your life. He becomes your source of truth, love, forgiveness, joy, and security. It's a choice you make.
So if you're one of the 97 percent of people who do believe in God, who is he to you? Are you close to him? If not, your relationship style is likely the reason.
The opinions expressed in this commentary are solely those of Tim Clinton and Joshua Straub.