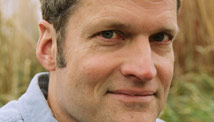 Editor's Note: Stephen Prothero, a Boston University religion scholar and author of "God is Not One: The Eight Rival Religions that Run the World," is a regular CNN Belief Blog contributor.
By Stephen Prothero, Special to CNN
I am fine with Jesus being the reason for the season, but does it have to last for two months?
A week or two ago, one of the radio stations where I live on Cape Cod, Coast 93.3, switched its format over to Christmas songs. As I am writing this, Wham! has just finished "Last Christmas" and Hall & Oates' "Jingle Bell Rock" is still ringing in my ears.
This confuses me. Is there really demand out there in radioland for non-stop Christmas carols for four weeks in November and another four in December? The Christmas season used to kick in right after Thanksgiving. Now it can barely wait for Halloween.
Don't get me wrong. Eartha Kitt's "Santa Baby" turns me on as much as the next guy. But for nearly two months? Isn't that a bit too much of a good thing?
In the Christian liturgical calendar, there is of course a month of preparation for the incarnation of Jesus. I remember lighting the four purple candles on the Advent Wreath in preparation for the coming of Jesus in the Episcopal church where I grew up. And I remember it as magic.
Advent is not Christmas, however, and you don't sing Christmas carols during the four Sunday services before Christmas. "O Holy Night" (which, by the way, was just sung on 93.3 by Josh Groban) refers not to November 24 but to Christmas Eve. And when Bing Crosby croons (as he did for me a few minutes ago), "It's Christmas once more," he isn't right until the 25th of December.
A few years ago Bill O'Reilly invited me on "The O'Reilly Factor" to discuss the religious ignorance of American citizens. He was decrying the "war on Christmas" at the time, so he asked me about that, too. I told him I was pretty sure Christmas would survive whatever attack it was enduring. If local radio is any indication, I was right. Christmas, I am unhappy to report, seems hell-bent on colonizing November.
I am no anti-Christmas culture warrior. I love the Christmas Eve service, the faces of expectant kids on Christmas morning, and the story of a God who is one of us (sort of). But it's not ritual or theology that are stretching Christmas to the breaking point—it's Macy's and Madison Avenue and Silly Bandz and Stinky the Garbage Truck and Coast 93.3.
Whatever war on Christmas we are enduring is being waged by retailers and advertisers, not secular humanists. According to Percy Faith & His Orchestra, "We Need a Little Christmas." I think we need a little less.
The opinions expressed in this commentary are solely those of Stephen Prothero.