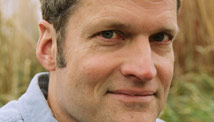 Editor's Note: Stephen Prothero, a Boston University religion scholar and author of "God is Not One: The Eight Rival Religions that Run the World," is a regular CNN Belief Blog contributor.
By Stephen Prothero, Special to CNN
If you have ever contemplated being stranded in a hotel room without electricity, you might be happy to hear that the Gideon's ubiquitous nightstand Bibles are no longer your only reading option. For some time, many Marriott Hotels have featured copies of the Book of Mormon, and, now, according to Kate Shellnutt at the Houston Chronicle, Hare Krishnas have placed roughly 7,000 copies of the Hindu scripture the Bhagavad Gita in 100 Houston-area hotel rooms.
Some will doubtless see this development as the beginning of the end of all that is good and godly in Christian America, while others will read it as a reason to rejoice in U.S. religious pluralism. For me, however, the arrival of Arjuna and Krishna (the heroes of the Gita) alongside Jesus and Mary and Joseph Smith in hotel room nightstands prompts this question:
If you were stuck for a week in a hotel room with no television and no Internet connection, which religious books would you want to have along? For the sake of discussion let's say there is only room for three other books, alongside the Bible. Which books would be in your holy trinity, and why?  The Quran? The Kama Sutra? The Tao of Pooh?
Here are my top three:
The Golden Compass by Philip Pullman
I'm tempted to go with Pullman's entire "His Dark Materials" trilogy, but I'll have to settle for the first in that series, The Golden Compass. Pullman is an atheist, and organized religion takes a beating here, but this is a deeply theological book, very much in conversation with Milton and obsessed with, among other things, the story of humanity's fall. Theology aside, however, The Golden Compass is just a great page-turner, right up there in my view with the Harry Potter books, and featuring, in the orphan Lyra Belacqua, one of the great heroines of western literature. Oh, and please don't let anyone tell you it's "just" children's literature.
Gilgamesh
My favorite story of all time, particularly as it is retold by Herbert Mason in Gilgamesh: A Verse Narrative. Here two characters, the god/man Gilgamesh and the animal/man Enkidu somehow figure out how to become human—one through sex and the other through grief. Not typically classified as a religious book, Gilgamesh can certainly be read simply as a great adventure story—"On the Road" for the Mesopotamian set. But it is also a tale of a failed quest for immortality, replete with gods and monsters. The oldest epic in western literature—it antedates even the Bible—Gilgamesh is in my view the greatest story ever told.
An Autobiography or the Story of My Experiments with Truth by Mohandas Gandhi.
For my third and final choice, I am tempted to pick Robert Pirsig's Zen and the Art of Motorcycle Maintenance (an inquiry, as the subtitle promises, into not only air/fuel mixtures but also values) or Christopher Pike's Sati (about a girl who claims to be God, and may just be), but I have to go with Gandhi's autobiography, in part because it's a doorstopper, and I am going to need a lot of pages to get me through my week, but also because Gandhi is one of the great figures of the twentieth century—politician and mystic, Hindu and Christian, pragmatist and visionary, all rolled into one.
As my students say, however, "That's just me, what about you?" What are your top three?
The opinions expressed in this commentary are solely those of Stephen Prothero.