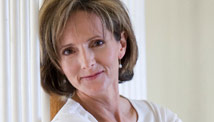 Editor's Note: Kathleen Koch is a Washington-based freelance journalist, author and speaker. Her best-selling new book, "Rising from Katrina," traces her Mississippi hometown's recovery from Hurricane Katrina and her experiences covering it. For 18 years, she was a CNN correspondent.
By Kathleen Koch, Special to CNN
I just returned from another visit to the Mississippi Gulf Coast, where gratitude is as plentiful this Thanksgiving as the "For Sale" signs that dot the beachfront. It might seem puzzling in a region where the recovery is still very much a work in progress.
"We are busier than ever, particularly since the oil spill," acknowledged the smiling, silver-haired nurse at a fundraiser this week for Biloxi's Bethel Free Health Clinic. The clinic sprang to life in 2005 to meet the needs of Mississippi residents who after Hurricane Katrina no longer had the money to pay for health care.
"This job was an answer to a prayer of mine," said 70-year-old Bethel director Judy Jones. The retired nurse had been helping hand out cleanup supplies, but prayed for a paying job that better fit her skills and would help pay for repairs on her hurricane-damaged home.
For two and a half years, Jones ran the clinic out of a Lutheran church with volunteer doctors and nurses from out of state. But then the post-hurricane state of emergency was declared over. Jones introduced me to the tall, bespectacled doctor who came out of retirement to fill the gap.
"It keeps me out of trouble," Dr. David Clippinger said, nodding cheerfully.
They work out of a donated building now, and Clippinger and the other local MDs at the clinic are on their own.
They don't complain. Few here do. They are too busy putting the Mississippi Gulf Coast back together after it was eviscerated in 2005 by sustained 125 mph winds, hop-scotching tornadoes, and a thirty-plus-foot storm surge.
Home sales were up last month and prices were steady. Unemployment was slightly higher, but still lower than the national average. Only 93 FEMA trailers remain on the Mississippi Gulf Coast. The casinos and many hotels, restaurants and other businesses have re-opened.
In my hometown, Bay St. Louis, there is a new fire station. Elementary school children are out of trailers and attending class in a brick-and-mortar building for the first time in five years. The flattened Little Theatre has relocated to one of the few historic buildings left standing after the storm.
Across the street, a new $4.8-million community hall will be complete at the end of the month. The beach road and seawall downtown have been repaired and reconstruction has finally begun on a popular waterfront restaurant. When Trapani's opens in 2011, it will be the second business operating on the once-bustling thoroughfare.
New affordable housing for seniors and low-income families is fast being built thanks to Habitat for Humanity volunteers and grants.
Wendy McDonald, who grew up in Bay St. Louis, left a job as a dean at a Houston college and took a 50 percent pay cut to run the Habitat program. "It was a leap of faith. The door opened and the stars aligned," McDonald explained. "Miracles happen every day at Habitat. God provides."
Recovery is slower in residential areas along the water, where the high cost of insurance makes rebuilding unaffordable for many. Empty slabs still dominate the beachfront, so much so that having a next door neighbor is a rarity.
Volunteers have been the backbone of the recovery. Some 600,000 have trekked to the 80-mile-long sliver of coastline to muck out homes and businesses, clear debris, wield hammers and hang dry wall. They came from churches, synagogues, schools and colleges. Some loaded up supplies in their cars and trucks and drove south on their own.
"They just keep on coming," marveled a Pass Christian alderman who coordinates the student efforts in her Gulf Coast town. Renee Brooks told me how she directs the kids not to just focus on the work. "We tell them listening to people's stories is important too. It's part of the healing process."
The people of Mississippi are about healing and moving forward. Most people at the clinic fundraiser Sunday had lost all or part of their homes five years ago. Each insisted they had come out fine, that others had suffered far more than they. "I was blessed," they told me.
Turnout was down at the event. Still, organizers hoped to have raised enough to cover three months of free care at the clinic. Clinic director Jones wasn't worried. "That's alright. We'll get there. If we're meant to, we will," she said.
The free clinic has tallied over 29,000 visits since it opened its doors. It might seem a challenge to keep operating in a recovering disaster zone in the poorest state in the nation. But Mississippi leads the country in per capita philanthropy. And for that, just as for the crowds that pack the facility every day, Jones is grateful. "Oh, absolutely. We are staying afloat," she said, beaming. "We may not have done a lot, but we're still open. And that's just great."
The opinions expressed in this commentary are solely those of Kathleen Koch.