By CNN Belief Blog Co-Editor Eric Marrapodi
Buffalo Bills wide receiver Stevie Johnson dropped a game-winning touchdown in the end zone Sunday in overtime against the Pittsburgh Steelers. Anyone who has ever tossed the pigskin around in the back yard dreams of that scenario - minus the drop, of course.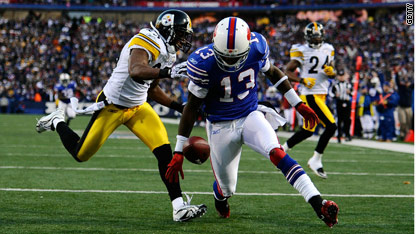 Johnson did not even have to work for the ball. Quarterback Ryan Fitzpatrick's pass was text-book perfect, landing squarely in Johnson's hands.
After the game, Johnson's twitter account filed this faithy tweet:
I PRAISE YOU 24/7!!!!!! AND THIS HOW YOU DO ME!!!!! YOU EXPECT ME TO LEARN FROM THIS??? HOW???!!! ILL NEVER FORGET THIS!! EVER!!! THX THO...
Johnson was emotional in the post game press conference.
"It was a great call; it was something we knew we could beat them on....It came to the back of the end zone. I had the game in my hands and then dropped it. That's it."
He said the play was something he would never get over.
"How would you feel? You've got this game against the Pittsburgh Steelers and you got this kid coming up in the NFL making plays..All of a sudden, when the biggest play needs to be made, you don't make it. You feel bad. I'm devastated right now."
Just last week Johnson was fined $5,000 by the NFL by for wearing a t-shirt under his jersey that said, "Why so serious?" After scoring a touchdown, he lifted his shirt to reveal the Batman-inspired quote from the Joker.
Interestingly enough, he praised God for helping him make that catch.
At a press conference last Wednesday, Johnson said, "It happened. And if it wasn't going to happen, I wouldn't have caught the ball." Then he was asked by reporters if he regretted his actions. "I don't really regret anything. I'm playing under God. So if it happens, it happens," he said.
This brings us to a larger theological question: Does God hate the Buffalo Bills? You may remember this is the very team that lost four straight Super Bowls.
What do you think?
Check out a piece we did on this earlier: When did God become a sports fan?