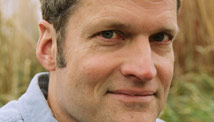 Editor's Note: Stephen Prothero, a Boston University religion scholar and author of "God is Not One: The Eight Rival Religions that Run the World," is a regular CNN Belief Blog contributor.
By Stephen Prothero, Special to CNN
A four-minute video that includes an eleven-second depiction of a crucifix crawling with ants has been removed from the "Hide/Seek: Difference and Desire in American Portraiture" exhibit at the National Portrait Gallery, but it is still stirring up controversy in Washington, DC.
First, incoming House Majority Leader Eric Cantor (R-Virginia) blasted the National Portrait Gallery for its "obvious attempt to offend Christians during the Christmas season," while the incoming House Speaker John Boehner (R-Ohio) and other Republicans threatened to scrutinize Smithsonian funding next year.
Then Martin Sullivan, who directs the National Portrait Gallery, said "it was not the museum's intention to offend" but pulled the video anyway, which prompted the liberal group, People for the American Way, to accuse Republican critics of the exhibit of censorship: "This new GOP leadership wants a government that stays out of people's lives when it comes to health care and unemployment benefits, but they show no scruples about using government power to censor the free expression of those they disagree with."
I write not to raise First Amendment questions about elected officials transforming themselves into self-appointed curators, but to ask whether these officials are really concerned (as they claim) about the use of taxpayer funds to weigh on matters of the spirit.
In a press release yesterday, Gov. Steve Beshear of Kentucky announced that his state had entered into a deal with the folks behind the Creation Museum to break ground for Ark Encounter, a $150 million theme park complete with "a full-scale model of Noah's Ark."
Rather than speaking of his state's support of this group's creationist agenda, Gov. Beshear spoke of employing 900 workers and drawing 1.6 million visitors a year. According to the Lexington Herald-Leader, however, the tax breaks offered by the state to Ark Encounter, as the theme park is being called, "could surpass $37 million."
The entire exhibit at the National Portrait Gallery (of which the brief clip by the late artist David Wojnarowicz was a small part), cost, by contrast, $750,000, and all of that from private donations.
So my question to Representatives Boehner and Cantor, and to Glenn Beck and others who are working themselves up into a lather over this supposed attack on Christianity, is this: Are you equally outraged over millions in tax breaks to a group promoting fundamentalism? 
Would you be outraged at all if the clip in question concerned not an "antsy Christ" but an "antsy Buddha" or an "antsy Christopher Hitchens"? And how loud would the outrage be in Washington if Kentucky's governor was offering millions in tax incentives to a Hare Krishna theme park? Or a Disney Land of Atheism?
Beyond these questions of basic fairness, I have a more practical question, this time for Belief Blog readers: Would you pay good money to see a 500-foot-long replica of Noah's Ark?
I hate to sound like one of Noah's scoffers in Genesis, but the last time I was at the Holy Land Experience in Orlando, it wasn't exactly crowded. And that Bible theme park is in Orlando, Florida, not Grant County, Kentucky.
The opinions expressed in this commentary are solely those of Stephen Prothero.