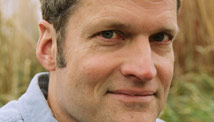 Editor's Note: Stephen Prothero, a Boston University religion scholar and author of "God is Not One: The Eight Rival Religions that Run the World," is a regular CNN Belief Blog contributor.
By Stephen Prothero, Special to CNN
The controversy over the "Fire in My Belly" video just pulled from the National Portrait Gallery appears, on the face of it, to be about using tax money to display art that some Christians find offensive. Or so the critics - from Bill Donohue of the Catholic League to Glenn Beck of Fox News to conservative Republicans such as the incoming House Speaker John Boehner - would have us believe.
But the artist, the late David Wojnarowicz, was gay. The video is informed, among other things, by the AIDS crisis. And the broader exhibit, "Hide/Seek: Difference and Desire in American Portraiture," attends to issues of gender and sexuality, including homosexuality.
So what is at stake here is not just money but the contested intersection of religion, morality and sexual politics that has been going in recent years by the tagline of "the culture wars."
Martin Scorcese's 1988 film, The Last Temptation of Christ was also attacked as anti-Christian, but it was actually quite orthodox theologically. In the dream sequence at the end, Jesus (who, according to traditional Christian theology is both God and human) imagines, under the delirium of the cross, a life of love, sex and marriage.
But he does not choose that life. He chooses the life the Church has always allotted to him. Which is to say he chooses death upon the cross - a death, I might add, that probably included the intrusion onto his broken body of flies, insects and, perhaps, ants.
The "Fire in My Belly" clip is harder to parse. Like all real art, it is about many things. Its core theme, however, which it shares with the Christian Eucharist, is flesh and blood. Yes, we see the crucifix with the ants at the beginning, and two more images of the Suffering Savior that have drawn less notice, but the dominant themes are blood and fire and bread and wine and cuts of meat and corpses and human bodies that are, for the time being at least, alive.
The keyword in the soundtrack, repeated over and over again, is "unclean," which I at least associate simultaneously with these bodies and with this protest: Are our bodies really unclean? Is this God's prophet denouncing our bodies as unclean? Or does that voice come from some darker place?
Watching the video made me think that what the self-appointed trinity of Donahue and Beck and Boehner are stifling here isn't just art but Christian theologizing. I found "Fire in My Belly" clip to be disturbing, as all reflections on our common mortality are. But I also found it to be deeply theological, and, as Andrew Sullivan has argued, deeply orthodox.
Like all good theology, "Fire in My Belly" asks more questions than it answers. And these are the questions it poses for me: Have we too discarded Jesus, tossed him on the road to be attended to by a retinue of ants while we focus our energies on more important things (like Christmas shopping)?
Didn't Jesus die for all of us? Didn't Jesus die for gays, too?
The opinions expressed in this commentary are solely those of Stephen Prothero.