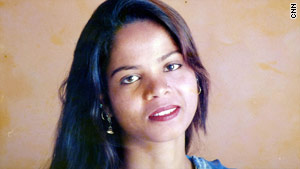 A Pakistani cleric is offering a nearly $6,000 bounty for the killing of a Christian woman whose death sentence for blasphemy is being challenged by Pakistan's government.
Moulana Yousaf Qureshi made his announcement at a Friday service in the northwestern city of Peshawar. He condemned any effort by Pakistani President Asif Ali Zardari to pardon or release Asia Bibi (pictured) and said he and his followers will call on millions to protest if Pakistan's blasphemy laws are amended.
"I will pay 500,000 rupees for the loyal follower of Muhammad who beheads Asia Bibi," Qureshi told a crowd of several hundred people. The amount is equivalent to about $5,800, or more than six times the country's average annual wage.
In November, a Pakistani court found the 45-year-old Bibi guilty of defiling the name of the Prophet Mohammed during a 2009 argument with Muslim fellow field workers. The offense is punishable by death or life imprisonment, according to Pakistan's penal code, and Bibi was sentenced to death.
But an investigation by a Pakistani government ministry found the charges stemmed from "religious and personal enmity" and recommended Bibi's release. Zardari has said he would pardon Bibi, but a court has ruled that the president can't act until the sentence is confirmed by a higher court - a process her lawyer says could take two to three years.
About 2 million Christians live in Pakistan, making up slightly over 1 percent of the officially Islamic nation's population of about 170 million, according to government statistics.
Journalist Nasir Habib and CNN's Reza Sayah contributed to this report.