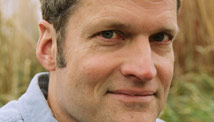 Editor's note: Stephen Prothero, a Boston University religion scholar and author of "God is Not One: The Eight Rival Religions that Run the World," is a regular CNN Belief Blog contributor.
By Stephen Prothero, Special to CNN
The massive Google database of some 500 billion words culled from books published between 1500 and 2008, and featured in an article published today in Science, is a treasure trove for anyone interested in how languages change. But it can also provide quantitative insights into the history of culture, via what the authors of the study are calling "culturomics."
In my first effort at playing around with the new database, which goes by the clunky name of "Books Ngram Viewer," I tried to see what I might be able to learn about religion. Because my scholarly focus is on religion in the United States, I focused on books published in "American English" between 1776 and today.
I found that occurrences of the word "Bible" peak as a percentage of all printed words in the 1840s, and that the steady decline in usage of this word is reversed right around 1980 with the election of Ronald Reagan as president and the rise of the religious right.
I found that Jesus' popularity (at least as a word) peaked in 1810, hit a 20th-century bottom in 1939 and has been rising pretty much ever since.
I also found that the word "yoga" first came into the lexicon of American English in the 1890s, and that the word "fundamentalist" arrived three decades later— in the 1920s.
When I charted the term "religion" against the word "sex," I learned that "religion" appeared far more often than "sex" in books in the 18th and 19th centuries—in fact in some years in Victorian America "religion" outpaced "sex" by a factor of roughly 10:1. But the two lines start to converge after the Civil War, and they cross in 1970—1971 to be exact.
When I entered the words "Judaism," "Islam," "Buddhism," and "Hinduism" to see which of these traditions was discussed most often in books in American English, I discovered to my surprise that "Islam" outpaced even "Judaism" in virtually every year since the Civil War, with the exception of a few years in the late 1960s and early 1970s, when Judaism was the most used of these terms.
Finally, and most importantly, this new Google database should be able to settle the question, raised by John Lennon's claim in 1966 that the Beatles were "more popular than Jesus." At least when it comes to appearances of those two terms in books in American English, Jesus was at the time at least 10 times more popular than the Beatles, and he remains more popular today.
The opinions expressed in this commentary are solely those of Stephen Prothero.