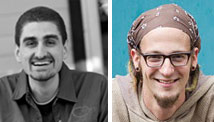 Editor's note: Shane Claiborne and Jonathan Wilson-Hartgrove are co-compilers of Common Prayer: A Liturgy for Ordinary Radicals (Zondervan).
By Shane Claiborne and Jonathan Wilson-Hartgrove, Special to CNN
It's not all that strange this time of year to see Christians outside in bathrobes, trying to keep a little baby warm in the straw of a cattle trough. (Truth be told, it's usually a doll; but we get a real donkey from time to time.)
We Christians like to re-enact the birth of Jesus and hear the angels sing again, "Peace on earth, good will toward men." This is our good news. It feels good when our neighbors pause to listen.
But we rarely tell the whole story. The baby in a manger is cute. The shepherds in their field are quaint. The magi from the east give the whole scene some dignity.
But most of our churches are "seeker sensitive" when it comes to retelling the Christmas story. Our kids don't dress up like the undocumented workers who do shepherds' work today. We often fail to mention that Mary was an unwed mother. When we re-create the manger scene, we don't reproduce the odor. We like to clean the whole thing up a bit. It makes it easier to go home and enjoy Christmas dinner.
As much as both of us love a good meal with our families, we're pretty sure Jesus didn't come to initiate a sentimental pause in holiday consumption. "The Word became flesh and dwelt among us," John's gospel says. Jesus moved into the neighborhood, and it wasn't necessarily good for property values.
Christmas reminds us how Jesus interrupts the world as it is to reveal the world as it ought to be. When we pay attention to the story, it exposes our desperate need for a better way. This always makes some people mad.
When King Herod got the news that Jesus had been born in Bethlehem, he issued a national security directive that every boy 2 and younger should be killed. As we remember this part of the story, we take in the harsh truth that there was and still is a political cost to the incarnation of God's peaceable love.
Such a holy feast day of mourning provokes our political memory and prompts us to remember the Iraqi civilians who have died since the U.S. invasion in 2003. On such a day, we don't consider these deaths to be the necessary sacrifice of "collateral damage"; we lament their deaths as acts of our contemporary Herods.
And we proclaim that another way is possible. Though Jesus was persecuted as a homeless refugee, he survived Herod's sword to proclaim the reign of God and invite a ragtag band of disciples into the way of peaceable love — a way that culminates in Jesus willingly submitting himself to the state-sanctioned violence of the death penalty.
Though Christians have often been guilty of betraying the way of Jesus for more "sensible" strategies to make a difference in the world, Christmas is a check on our self-confidence. We can't write off the Iranians as enemies we don't need. If they hadn't sent their wise men, the rest of us might well have missed Jesus altogether.
So we celebrate, but our story always reminds us that our holiday is more radical than we might want it to be.
When we gather for our Christmas parties, we recall that Jesus said not to invite the neighbors who'll have you over to their house (or shop at your store), but to go out in the street and celebrate with the folks whom no one else will welcome.
When we sing praises to the Prince of Peace, we commit to love our enemies, even the ones we call terrorists.
When we give gifts, we remember St. Nicholas, bishop of Myra, who took the church's gold and gave it to poor families in hope that they would not sell their daughters into slavery to put food on the table.
Shaped by this memory, we become God's peculiar people — not just because we stand out in the cold in our bathrobes, but because we stand with victims of sex trafficking. Inspired by the saints who've gone before us, we make sacrifices to reduce our carbon footprint and open our homes to unwanted children.
Even in hard economic times, we tap our resources to build wells for clean water, and we listen to our friends who drink from those wells. Ours is a new "we" that extends our "family values" to sisters and brothers who speak different languages and don't look like us. We see with our own eyes that a new world is already getting born.
And the angels rejoice. As always, some people — especially people with power — get mad. But Christmas helps us remember that this is how it always is. And this is how God saves the world.
The opinions expressed in this commentary are solely those of Shane Claiborne and Jonathan Wilson-Hartgrove.