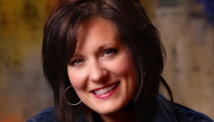 Editor's Note: Lysa TerKeurst is president of Proverbs 31 Ministries and author of Made to Crave: Satisfying Your Deepest Desire With God, Not Food. Lysa blogs daily at www.lysaterkeurst.com. 
By Lysa TerKeurst, Special to CNN
Three years ago I was stuck in a rut of wishful thinking and excuses with my weight loss. At the beginning of each day I would say I wanted things to be different. I would vow in my heart to make things different. I would even make a plan to stop the snacks, increase the veggies, and say no to the desserts.
But then life would happen. And the excuses were so very plentiful. So, my resolve would melt away like butter on a hot yeast roll.
Of course the next morning I would always get up and weigh myself hoping that somehow magic would have happened over night. Despite my indulgences from the day before, maybe just maybe the numbers would have gone down.
But the scale was not impressed with my wishful thinking. So you know who I'd get mad at?
God.
I'd beg God to help me one minute while scarfing down an order of fries the next. And then I'd be doubly mad He didn't steer my car away from the drive-thru.
I deemed myself a victim of tragic genetics, overactive taste buds and a stomach that demanded large portions.  What I failed to realize for years is there was a much more significant issue going on with me.
More important than the ever increasing size of my jeans was the deception going on inside my heart. My weight was outside indication of an internal situation. There was a crucial spiritual situation that needed to be addressed.
I was relying on food to be my comfort, my ever present help, my guide, the thing that got me through the valleys and the first thing I wanted to celebrate with in the good times. Honestly, I might as well have taken Psalm 23 and replaced the Lord's name with various food choices.
My proper little Christian self would have never expressed that out loud. But my body wouldn't keep secrets. I had an issue. And the ever increasing size of my body demanded the REAL issue be addressed.
I don't write to point out anyone else's issue. There are certainly medical situations that can cause weight gain. But my issue was truly a spiritual one. And no diet would have ever been permanently successful until I got to the real root of my problem.
The root of my issue was craving food more than God. I desired and depended on the instant high of physical gratification because I hadn't learned how to let God satisfy my deepest needs.
God wasn't causing my weight issues as some sort of cruel consequence for my poor choices.
God was actually the very thing I needed to help overcome my issues.
Dr. Floyd Chilton who teaches at Wake Forest University of medicine wrote an article that said, "Your willpower is in constant battle with your genes and your calorie-excessive environment. Often your best efforts are no match for your genes and environment which is why so many diets fail so miserably... Will power alone is not enough to bring about this change; start by realizing that can not do this alone. If you are a person of faith, use that connection to help you change."
So, I set out to understand what the Bible says about how to consume food without food consuming me. I started in Genesis and read through the Bible with an appetite for truth rather than chocolate, chips and cheeseburgers. This was a spiritual journey that yielded great physical benefits. I lost 25 pounds in 4 months but more importantly, I have kept it off for nearly two years. That's a first for me!
Now, I sense my weight issue was actually a gift in disguise. I never thought I'd say that. And yes, three years ago I would have rolled my eyes at someone saying that too.
But I don't say it as a Pollyanna lollipop girl with too much air between her ears and no cellulite on her hiney.
I know this is a tough issue. I've walked through the tears and the feelings of failure. Remember, I was the fat girl mad at God about this whole deal. So, hear me out.
Learning to turn to God to fill my soul instead of food to overstuff my emptiness, has changed more than just my jeans size. It has changed my outlook on life. I did lose the extra weight I needed to shed and kept it off. But the real reward was what I gained with Jesus in the process. He became the best part of my journey. And I wouldn't have missed this new found closeness I now have with Him for anything in world.
"For the Kingdom of God is not a matter of eating and drinking but of righteousness, peace and joy in the Holy Spirit, because anyone who serves Christ in this way is pleasing to God and approved by men. Let us therefore make every effort to do what leads to peace and to mutual edification. Do not destroy the work of God for the sake of food," Romans 14:17-20.
The opinions expressed in this commentary are solely those of Lysa TerKeurst.