By Richard Allen Greene, CNN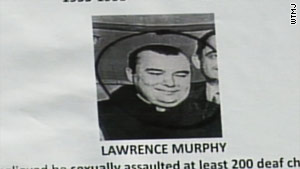 The Catholic Archdiocese of Milwaukee is filing for bankruptcy protection, it announced Tuesday, citing the cost of lawsuits filed against priests by victims of sexual abuse.
"This action is occurring because priest-perpetrators sexually abused minors," the archdiocese said in a statement announcing it was filing for Chapter 11 protection.
Milwaukee was home to Father Lawrence Murphy, who was accused of molesting as many as 200 deaf boys at St. John's School for the Deaf over the course of decades. He resigned from the post in 1974 and died in 1998.