By Richard Allen Greene, CNN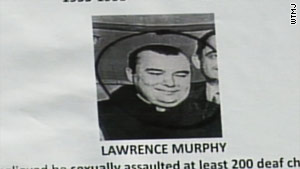 The Catholic Archdiocese of Milwaukee is filing for bankruptcy protection, it announced Tuesday, citing the cost of lawsuits filed against priests by victims of sexual abuse.
"This action is occurring because priest-perpetrators sexually abused minors," the archdiocese said in a statement announcing it was filing for Chapter 11 protection.
Milwaukee was home to Father Lawrence Murphy, who was accused of molesting as many as 200 deaf boys at St. John's School for the Deaf over the course of decades. He resigned from the post in 1974 and died in 1998.
One of his alleged victims attempted to sue the Vatican to force it to release the names of thousands of Catholic priests against whom credible accusations have been filed. The Vatican said the suit had no merit.
Arthur Budzinski, a deaf man who said he was sexually assaulted and raped by Murphy, talked about the abuse in a news conference about the lawsuit last year.
He said the priest "may have stolen our bodies," but higher clerics such as cardinals, archbishops and the pope "stole our voices."
He made his comments in sign language and his daughter, Gigi, interpreted his words.
The archdiocese has failed to reach an out-of-court settlement with victims, and a court ruled in November that insurance companies were not required to help it pay off abuse claims, it said.
That forced it to file for bankruptcy protection, it said.
It said it had two goals: "fairly" compensating victims and carrying on its "essential ministries."
But a lawyer representing victims rejected the explanation.
"The reality is that this is being done for one reason - to hide the names of those who have offended kids and those that have covered it up in the archdiocese for years," said Jeff Anderson, who represents 23 victims.
But bankruptcy will only delay the process, not stop it, he argued, saying other diocese had also filed for protection.
"In all instances it has caused delays but ... never succeeded in avoiding the public disclosure of some of their crimes," he told CNN.
The head of a victims' group blasted the decision to file for bankruptcy.
"It's always distressing when supposed 'shepherds' act like callous CEOs," said David Clohessy of the Survivors Network of those Abused by Priests.
"This is about protecting church secrets, not church assets. The goal here is to prevent top church managers from being questioned under oath about their complicity, not 'compensating victims fairly,'" he told CNN.
Milwaukee becomes at least the ninth American diocese to file for bankruptcy protection since 2004, according to BishopAccountability.org, a database of publicly reported information about abuse allegations.
CNN's Alan Duke and Hada Messia contributed to this report.