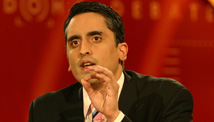 Editor's note: Arsalan Iftikhar is an international human rights lawyer, founder of TheMuslimGuy.com and legal fellow for the Institute for Social Policy and Understanding in Washington.
By Arsalan Iftikhar, Special to CNN
With the recent deadly attacks on Christian churches, the maniacal terrorists of al Qaeda seem to be aiming at unraveling the neighborliness among Muslims, Jews and Christians throughout the Middle East that has existed for centuries.
In Baghdad, 58 people died in a bomb attack on a church; in Alexandria, Egypt, 21 people were killed and about 80 injured in another bombing.
Of course, al Qaeda has not limited its attacks to Christianity. Before its attacks on churches, al Qaeda was targeting mosques all around the region.