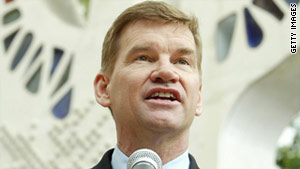 Ted Haggard, the former megachurch pastor and former National Association of Evangelicals chief whose career was undone by a sex and drugs scandal in 2006, will appear in a cable TV special this month.
"Ted Haggard: Scandalous" will explore his fall from grace, he said. "It shows the drama and the intrigue" that exploded following revelations that he had engaged in sexual encounters with a male prostitute and purchased crystal meth. Haggard described the scandal as "highly embarrassing and shameful for me."
The show is scheduled to air on TLC on January 16.
In 2006, Haggard acknowledged having received a massage from a Denver, Colorado, man who said that the prominent pastor had paid him for sex over three years.