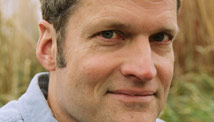 Editor's note: Stephen Prothero, a Boston University religion scholar and author of "God is Not One: The Eight Rival Religions that Run the World," is a regular CNN Belief Blog contributor.
By Stephen Prothero, Special to CNN
My reflections on America's latest assassination attempt and on politics as "the continuation of war by other means" begin with one simple claim: ideas matter, as do the words we use to express them.
We do not yet know what moved the killer to take aim at Arizona Rep. Gabrielle Giffords on Saturday. But we know that when he shot her and murdered six others, including a federal judge and a nine-year-old girl, he did not act in a vacuum.
He acted in a state where handguns such as the 9 mm Glock he reportedly used are about as easy to get as cigarettes.
He acted in a political milieu where slogans such as "guns don't kill people, people kill people" pass for rational analysis.
And he acted in a country where political disagreements are routinely expressed in the rhetoric of war.
I do not know whether the alleged assailant Jared Lee Loughner ever saw the crosshairs Sarah Palin placed over Arizona on a map her website. I do not know what motivated whoever vandalized her Tucson office in March shortly after she voted in favor of health care reform. But I have no doubt that both were influenced by the verbal crossfire that pushes Palin and other pundits, on both the left and the right, to demonize their opponents as enemies of the state.
I have no doubt about this because I know that ideas matter—that they move people to perform incredible acts of kindness and commit unspeakable acts of brutality. Ideas mattered in ancient Greece at the time of Plato. They mattered in the ancient Mediterranean at the time of Jesus and Paul. And they continue to matter today.
Pima County Sherriff Clarence Dupnik is already taking heat from conservatives for the way he connected the dots shortly after the shooting. "When you look at unbalanced people, how they respond to the vitriol that comes out of certain mouths about tearing down the government. The anger, the hatred, the bigotry that goes on in this country is getting to be outrageous," Dupnik said. "And unfortunately, Arizona, I think, has become the capital. We have become the mecca for prejudice and bigotry."
He is right, however, to make a connection between vitriol and violence.
For years, Jon Stewart has been trying to tamp down this vitriol via humor, including through his Rally to Restore Sanity and/or Fear in October. In an interview on NPR's "Fresh Air" with Terry Gross he took aim not at Fox News for targeting liberals but at liberals for targeting conservatives.
It's very easy to dehumanize," Stewart said, before giving voice to the fear many on the left have of a right-wing takeover of America. "We think of it as, 'Oh, my God, I'm so scared if they take over,'" he said, referring to Glenn Beck and Sarah Palin. "And you know what, we will be fine."
I am not so sure about that. Yes, we can survive a presidency by a conservative Republican, even a Republican as conservative as Sarah Palin. But can we survive even further ratcheting up of this rhetoric of politics as war?
In March of last year, Giffords objected to Palin's use of the crosshairs image on a map that targeted 20 Democrats (including Giffords, by name) for defeat. "We're on Sarah Palin's targeted list," she told MSNBC in March, "but the thing is that the way that she has it depicted has the crosshairs of a gun sight over our district, and when people do that, they've gotta realize there are consequences to that action."
Palin has taken this map off her website, which is well and good. But will she tamp back her rhetoric? More importantly, how many assassinations will it take before out nation's politicians and television personalities do the same?
We are all accountable in my view not only for what we say but also for what our listeners do with our words. To insist otherwise is to pretend that words and ideas do not matter. But words and ideas do matter. They move people to tears, and they move people to murder. All of us who use words in our professions know that. It is time for our politicians and pundits to go and do likewise.
The opinions expressed in this commentary are solely those of Stephen Prothero.