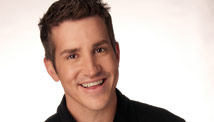 Editor's Note: Jon Acuff is the founder of the blog, StuffChristiansLike.net.  He is the author of two books, "Stuff Christians Like" and "Gazelles, Baby Steps and 37 Other Things Dave Ramsey Taught Me About Debt."
By Jon Acuff, Special to CNN
A few things happened last Sunday if you went to a Protestant church.
You tried to beat the person next to you in a race when the pastor said, "Please open your Bibles and turn to …"
The guy who led worship had on a v-neck T-shirt and possibly an unnecessary scarf.
You heard a sermon about Ted Williams, the "Homeless Man with Golden Pipes."
If that last one didn't happen, it's going to. Trust me.
That story is amazing. You can't help but cry while watching the video of a man on the streets get his second shot as a radio personality.
It's the best rags-to-riches story of the year. Although to call something "best of the year" in January is a little like the Ben Affleck movie poster I saw that called his new movie the best of the year even though it releases January 21.
But I think Ted Williams story will hold the "comeback" title all year long.
We Christians loved Williams' story, especially when we saw him deliver what was essentially a sermon in some of his interviews. He talked repeatedly about how it was God who kept him going. Over and over, he went far behind the ubiquitous "shout out to God" that rappers like Lil Wayne are required by to give at the MTV Video Music Awards.
Now clearly, we're a little nervous to hear the media describe his faith as "spirituality." That's often just another way of saying, "I like sage-scented candles and deep thoughts about the sunset." But let's withhold judgment on Ted.
What we can't withhold, though, are the sermon illustrations that are bound to flow like the Red Sea after the Israelites had walked on through. Here are the three sermons you should expect to hear about Ted Williams:
1. The Samson Comparison
This one seems so obvious, I'm embarrassed even mentioning it.
Samson and Ted Williams have a lot in common. They were both gifted with immense talent. They both struggled with living with that talent and the attention it brought. They both had dramatic haircut transformations.
They both tied 300 foxes together with torches in order to attack their enemies. OK, that's probably where the comparison breaks down, but I'm not the only one who thought about this.
Given his meteoric ride to fame, one of CNN.com's articles on Saturday about Williams was titled, "Keeping success from becoming a curse."
2. Redemption
Culturally speaking, we love comebacks, and Williams' is truly beautiful.
The best quote I've seen from him is about his mom: "One of my biggest prayers that I sent out was that she would live long enough … to see me rebound."
This fits well with the prodigal son story in Luke 15. Say what you will about Christianity, but it's a faith where a son makes the worst possible mistakes and returns home to a party. That's even more outrageous than Williams' story.
The prodigal son didn't clean up, or get discovered, or get a job offer from the Cleveland Cavaliers before returning. He walked back filthy and broken. And the father figure, representing God, is the one who ran to embrace him. The best part is, we still serve a running God, a God who loves comebacks even more than we do. That could be an awesome sermon.
3. A Ted Williams/Chilean Miner Sermon Illustration Medley
My secret hope is that some pastor will do a mashup of Williams' story, the Chilean miners' ordeal and maybe even a smidge of lousy World Cup officiating for one massive sermonic remix.
It won't be easy; that will take the pastoral equivalent of DJ/Musician Girl Talk, but I think it's possible.
(I'm talking to you, pastors Jarrett Stevens and Matt Chandler. As they kids say, "Get jiggy with it!" What? They stopped saying that nine years ago? No doy!)
These sermons are coming. Maybe not the last one, but those other two are right around the corner.
You've probably already experienced a Ted Williams sermon illustration. If you haven't, and if a month goes by without you hearing anything about him at church, there's only one possible explanation:
Dead birds falling from the sky.
That has sermon illustration written all over it.
The opinions expressed in this commentary are solely those of Jon Acuff.