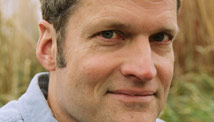 Editor's Note: Stephen Prothero, a Boston University religion scholar and author of "God is Not One: The Eight Rival Religions that Run the World," is a regular CNN Belief Blog contributor.
By Stephen Prothero, Special to CNN
After the shooting, the vitriol.
First came the thunder from the left, blasting the right for creating a climate of hatred in which taking out your Glock and aiming it at a congresswoman might seem to be the next logical thing to do.
Then came the thunder from the right, blasting liberals for blaming conservatives for what was obviously the illogical act of a confused young man shipwrecked on an island of his own imagining.
Then came Jon Stewart of Comedy Central and David Brooks of the New York Times, with more measured efforts to claim that what on the face of it would seem to be a political assassination attempt has nothing whatsoever to do with politics or, for that matter, even with ideas.
And apparently a majority of the U.S. public agrees. According to a CBS News poll, 57% of Americans believe that America's "harsh political tone" has nothing to do with the Arizona shootings.
Yet surely those of us who read the New York Times or turn on CBS News are influenced by the flux and flow of ideas. Are we to believe that people like the alleged shooter Jared Loughner are exempt from his human capacity? Does his rampage require no explanation other than mental illness? And does the responsibility for it lie solely with him?
One of the great debates in the history of ideas concerns human responsibility. What pushes evildoers to do evil? Is sin individual, or social, or both?
In much of Asia, the theory of karma answers these questions, and for the most part our karma is our own. The sins of the fathers are not visited upon the sons, and we are not our brother's keeper, at least not among the Hindus of India and their Buddhist kin.
Jewish thinkers, however, have typically been willing to find fault in communities, not least the anti-Semitic culture of the German nation, which according to "Hitler's Willing Executioners" by Daniel Goldhagen bore as much responsibility for the Holocaust as Hitler himself.
American Protestants have had at this problem from both ends. Many evangelicals and fundamentalists look to the individual soul for explanations of almost all sin. So do their secular twins in the psychiatric profession, who typically explain massacres like the one visited on Giffords and her compatriots in terms of a single twisted mind.
Other Protestants, including theologian Reinhold Niebuhr (until today, at least, David Brooks' darling), see sin as social, and refuse to confine either the cause of such tragedies or the responsibility for them to individual agents. It takes a village to make a killer.
On this debate, I am with Niebuhr and the Hebrew prophets, rather than with Brooks or, for that matter, with Rush Limbaugh, who decried the liberal media for "accusing people that have nothing whatsoever to do with this sordid, unfortunate event, as accomplices to murder."
I can't help thinking we have at least a spattering of blood on our hands.
Jared Loughner lives in the same society in which Limbaugh and I live. He breathes the same air, and takes in much of the same political rhetoric. To insist that he was not influenced by that rhetoric is to pretend either that ideas have no effect, or that they somehow magically lose their effectiveness when they enter the brains of the mentally imbalanced.
To take a gun and point it at Rep. Giffords is obviously different from putting her in your crosshairs on your web site, as Sarah Palin did last year. And the responsibility that attaches to each action is different. But we are all responsible both for what we do and for what we say. It is our society in which guns (and excuses) are so readily available. It is our society in which civility is so rapidly withering away. "Few are guilty," Abraham Joshua Heschel wrote in "The Prophets," "but all are responsible."
To pretend that people like the Tucson shooter are not influenced by the hateful rhetoric in which we are swimming these days only invites more hateful rhetoric from all sides. Unfortunately, that is what we are already seeing.
The opinions expressed in this commentary are solely those of Stephen Prothero.