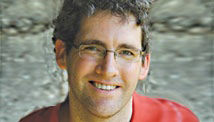 Editor's Note: Kent Annan is the co-director of Haiti Partners, the author of "After Shock: Searching for Honest Faith When Your World is Shaken" (InterVarsity Press, 2011), and blogs at http://www.kentannan.com.
by Kent Annan, Special to CNN
On January 12, 2010, so much came crashing down in Haiti—on people who lost their lives, on people who lost everything but their lives. And it was only the beginning of the suffering.
A year later, it's easy to make a list of urgent, intertwined needs: security, jobs, government (including a mired election), corruption, infrastructure, health/cholera, food, education, environment, a million people still homeless, the release of international aid, and so on. There is some progress and also much reason for frustration.
For eight years my work has focused on education in Haiti. Since the earthquake we've pressed to continue that work and also respond directly, such as rebuilding three quality elementary schools and many other projects. It's encouraging, until you look around and see how much need remains.
At this anniversary what rises to the surface for me is moments with people during the past year:
Six days after: Stooping down to crawl under the sticks holding up a sheet that was now "home" to the family of twelve that my wife and I had lived with for seven months when we moved to Haiti eight years ago. Outside the village of Darbonne, Haiti, near the earthquake's epicenter, their small concrete-block tin-roof home, without running water or electricity, had collapsed.
Three months after: standing next to a collapsed university in Port-au-Prince with the smell of death from students still unrecovered only a few steps away. I stand with a friend of mine who had been on the third floor and somehow survived. A man sells us cold Cokes from his cooler; he has to keep making a living.
Five months after: Attending church under a tent. I'm happy to see the new setup. Three weeks after the earthquake I had taken communion with people next to the pile of jagged rubble that was once the church. Now we're under a tent. Nearly everyone in the church that day lost their homes. Many have lost someone close to them. But their faith carries my leaden prayers heavenward.
A few weeks ago: arriving at an urban tent camp where more than 50,000 people live. It's "Sean Penn's camp" and well run. Our organization, Haiti Partners, is doing a USAID-funded education program to build collaboration skills and encourage civic participation for 1,000 educators and grassroots leaders.
I sit under a tent with 22 people living in the camp. They'll be discussing the Haitian constitution. We break into small groups of 5. They talk about their fears. They joke too. A Haitian friend takes our picture. They make fun of my muddy tennis shoes. Linda, 20, sees the photo and says, "Mwen bel!" I'm beautiful. She's an attractive woman, but it's not that. She somehow hasn't been crushed by losing everything.
"What's the biggest challenge you each face right now?" I ask our small group. The list is so long, I want to understand what feels most pressing to them, whether security, food, education, or something else.
"There are too many kids living in the streets," says bel Linda. "If it were possible, I'd start an orphanage."
She had mentioned earlier having to be vigilant to avoid being raped, but the greatest need that comes to mind for this young woman, who is herself one half-step away from homelessness, is how to help other kids.
I'm not telling you this to show how selfless Haitians are; they're no more good, bad, or "resilient" than the rest of us. But I tell you as an example of the deep desire people have to make better lives for their families and country.
It's easy to watch the occasional news, shake our heads with (patronizing) sympathy at Haiti, and get the impression, "I guess we have to do it for them."
Haiti does desperately need help, but we can't just do it for them. Of all that has been lost, broken, shattered in the last year, what cannot be taken away is the deep desire I see in Haiti of people who want to improve their country themselves.
The truth is there are not short answers or easy solutions. In an article like this I'm supposed to choose from the problems I listed earlier and then confidently tell you what will or won't turn things around for Haiti. While we work hard to be strategic, honestly I don't know what will end up working.
But one thing I can tell you with confidence, with great confidence, is there are many Lindas who want to change things.
The country's situation is bad now and could get worse. I know she might fail and there are extraordinary circumstances lined up against her, but I refuse to dismiss—and want to be part of—what she and Haiti can accomplish.
The opinions expressed in this commentary are solely those of Kent Annan.