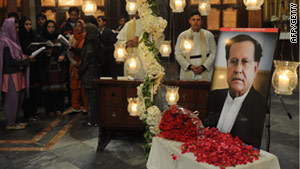 Police in Pakistan are searching for two hard-line Muslim clerics who allegedly inspired the assassin of a liberal politician gunned down last week, a police official told CNN.
The clerics' names appear in a confession statement delivered to a judge by Muhammad Mumtaz Qadir, the gunman who killed Punjab provincial governor Salman Taseer, said deputy Islamabad police chief Bin Yamin.
Qadir was serving as one of Taseer's security guards when he fired more than 20 bullets at his boss in broad daylight outside an upscale Islamabad shopping plaza.
In his statement, Qadir credited Sunni clerics Mufti Haneef Qureshi and Imtiaz Shah for motivating him to kill Taseer after the politician spoke out against Pakistan's controversial blasphemy laws, police said.