By Eric Marrapodi, CNN Belief Blog Co-Editor
Seattle megachurch pastor Mark Driscoll is frustrated with the situation in Haiti. Last week, he returned from his second trip to the devastated country.
"It's awful to see the lack of progress and awesome to see the spirit of the people there," he said.
On the morning of the one year anniversary of the earthquake, he joined with Haitian pastors at a memorial service in front of the National Palace, which is still in ruins.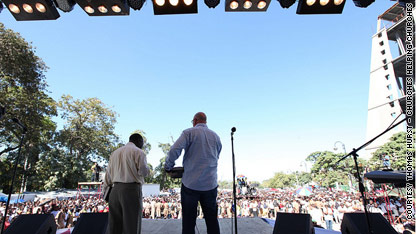 "The president was going to have a memorial event that night so they rented it to us for $3,000," Driscoll said. He estimates between 40,000 and 50,000 people came to the service. Driscoll said he spoke for five minutes and wanted to let the people there know he and his church back home are standing behind them.
Driscoll first went to Haiti in the days immediately after the earthquake. When he returned, he and pastor James MacDonald of Harvest Bible Chapel outside of Chicago set up Churches Helping Churches, which connects churches in the United States with Haitian ones.
"We can fly in and out and fly aid in, but that's their home - they're going to know what the best allocation of resources is going to be," Driscoll said.
Driscoll says Mars Hill Church, his independent church of 10,000-plus members, is partnering with Jean FE St. Cyr, a Haitian pastor who lost his home and his church building but has continued his services amid the rubble.
It is partnerships such as the one with Cyr that Driscoll says have historically had the biggest impact for churches like his, staying involved one on one, long after the spotlight is gone.
He said his charity isn't looking to compete with the other charities and nonprofits that are working in Haiti. "We brought $1.7 million in medical supplies, and we gave those to existing clinics. We want to be on the supply line, we don't want to compete with anyone," he said.
"We're going to keep raising money. Just like every organization, we'll keep going until the money runs out," Driscoll says.
To keep overhead low, they are relying on volunteers and only have one paid staff member.
When Hurricane Katrina hit the U.S. Gulf Coast in 2005, Driscoll's church was much smaller and did not jump into the relief efforts with the same gusto they have with their mission to Haiti.
"I think organizationally we were at a point [when the Haiti earthquake happened] where we could be more efficient. As a church grows and has more resources, it has more responsibility. 'To whom much is given much is expected,' " Driscoll said quoting Jesus.
The 40-year-old Driscoll is the preaching and theology pastor of Seattle's fast-growing Mars Hill Church, which began in 1996 as a small Bible study group. Today, they have 40 pastors on staff and 26 services spread across nine locations.
Driscoll preaches live at one location and a video of his sermon is piped into the other services, which have their own musicians leading worship and all the other trimmings of regular church service, sans a live preacher. Driscoll also has a sizable internet following on Twitter and Facebook, and his sermons are among the most popular on iTunes.
Despite the professional growth, Driscoll says he is trying to keep his personal life low-key. He said there aren't plans for a private jet or vacation homes. He said he's turned down three reality show offers, and he's not interested in getting rich.
"My goal is not to screw this up. I want a very boring testimony," he said. "I married my high school sweetheart. We have five great kids. And I don't want to be a train wreck, I want to keep this thing normal."
His motto for making that happen, "Keep it boring. Just keep it boring. Boring is awesome."