By Gabe LaMonica, CNN
It's the end of the world: Terrorists release deadly gas in New York City, then set off a nuclear bomb in Los Angeles, while an earthquake in the city of Jerusalem collapses the Dome of the Rock on the Temple Mount. Then a million soldiers are killed in "the greatest single battle in the history of the world."
At least that's how it's envisioned in a new graphic novel, "Armageddon Now: World War 3," the collaborative brainchild of Phil Hotsenpiller, a pastor who specializes in prophecy, and Rob Liefeld, one of the most polarizing artists in the comic book industry.
"Ezekiel actually talks about what happens prior to the battle of Armageddon," said Hotsenpiller, explaining his use of Old Testament passages in bringing scripture to life in comic book form.
The Book of Ezekiel is "really a summary of a war that happens in the Middle East before Armageddon, where you have this coalition of nations that come together to try to destroy Israel, and Israel prevails in that situation," Hotsenpiller said.
"What we find is a coalition of a lot of armies that make life very difficult, but there's a miracle that's won there, and that's before the entrance of what the Bible refers to as the anti-Christ," Hotsenpiller said.
On September 11, 2001, as people ran from the billowing white clouds and acrid dust chasing them down streets and alleyways, Hotsenpiller watched from the air. He and his wife were flying past the World Trade Center on their way out of LaGuardia. Before the towers collapsed, they saw the thick line of black pitch piping from one of the twin towers. He, like many others, didn't know what was happening.
Essentially it is here that Liefeld and Hotsenpiller begin their graphic novel, which sells for $24.99 from Image Comics and is available on the iPad. A sunny and normal morning in New York City turns devastating when a deadly gas that "no one could outrun" is released into the air.
As if the visuals weren't enough, a narrative box - there's virtually no dialogue - states that scenes in which mobs of New Yorkers run for their lives with clouds of dust and smoke overhead are "reminiscent of a scene from 9/11."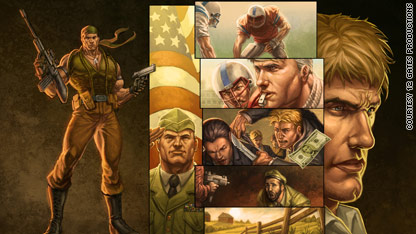 In "Armageddon Now," the gas is called M-4211. I asked Hotsenpiller about its significance.
"You've got some element of truth, some element of fiction, so we just made the place where they would discover this mystery ... Grand Central Terminal," he said. "Grand Central [is] on 42nd [Street] ... and we tied it back to ... Orion."
The Orion Nebula, also known to astronomers as M42, contains the star Betelgeuse, a red giant several hundred light years away. Some scientists believe it will go supernova in our lifetimes - or maybe in a million years. When it does, it will set the Earth's night sky ablaze in a light more than equivalent to the full moon.
"In our story, we use it more as a marker," Liefeld said. "Perhaps the birth of Christ, maybe that was a constellation that was lighting up that was guiding people, so that when it is utilized again, it's more of a signal. So that's where Orion, without giving away too much, is more or less utilized throughout our story."
Liefeld is an illustrator who has sold 60 million comics for Marvel and Image. He compares himself to Lebron James, "how he transitioned eight years into his career from a hero to a villain and … how LeBron is handling that," he said. "I'm telling you … if it was comic books, you could put my name in there."
People either love Liefeld or love to hate him. In describing his ascension, he quotes from the movie "Blade Runner": "When the scientist tells Rutger Hauer, playing Roy Batty, [he's] gonna die soon, he says, 'The light that burns twice as bright burns half as long, and you have burned so very, very brightly, Roy,'" Liefeld said.
"You're burning so bright, you're causing all this attention, but it burns out. I have enjoyed a fantastic 25-year career," Liefeld said.
"Armageddon Now" is a seminal book in Liefeld's body of work. Committing himself to vivid landscapes dripping with color, he still can't seem to pull completely away from the overwrought muscles and too many pockets and ammo magazines that blow his characters out of proportion - and that his critics have loved to ding him for since his meteoric rise in the 1990s.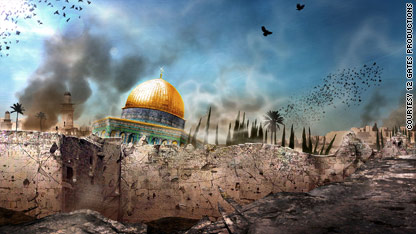 Hotsenpiller is known for his sermons on prophecy at Yorba Linda Friends, a Christian megachurch in Southern California. He marshals groups of nearly 10,000 people to three-day-long prophecy conferences - one of which Liefeld attended.
"Really the Armageddon book is not designed to be this Biblical commentary text on Ezekiel," Hotsenpiller said. "It's really meant to be entertainment and fun, and it adds an element of biblical truth in it."