By Eric Marrapodi, CNN Belief Blog Co-Editor
Thousands of abortion opponents joined Monday afternoon in a cold march on Capitol Hill, beginning on the National Mall and ending at the Supreme Court building.
Saturday marked the 38th anniversary of the Supreme Court's ruling on Roe v. Wade, which made abortion legal throughout the United States. Organizers planned the rally for Monday so marchers could visit with their congressional representatives to express their opposition to the law.
As thousands of bundled-up marchers walked up Constitution Avenue, some prayed the rosary, feeding wooden rosary beads through gloved fingers. Others held signs calling for the government to "Defund Planned Parenthood."
Barbara Murray, a real estate agent from Havertown, Pennsylvania, who is Catholic, came down by bus with a group of 80 others. She said she has high hopes for the new GOP majority in Congress.
Last week Republicans introduced legislation to ban all federal funding for abortion. House Speaker John Boehner, during his weekly news conference, said, "A ban on taxpayer funding of abortions is the will of the people and it ought to be the will of the land."
Murray and others at the rally were looking for ways to fight abortions beyond overturning Roe v. Wade and were energized by a recent suggestion from Republican Rep. Michele Bachmann of Minnesota, who greeted marchers Monday on Capitol Hill and will be the keynote speaker at a March for Life dinner Monday night.
"I'm thrilled to death with her," Murray said. "One of the things she said she wants to do is defund Planned Parenthood. If we do that, we don't have to worry about the law as much."
As much as abortion opponents want the law changed, she said, "if we can defund the whole business and get rid of the whole abortion business in our country, the law can be on the books, but we have to make sure that we protect every single child and that's unborn and born."
Christopher Pushaw, an attorney from Wayne, Pennsylvania, marched alongside Murray as they made their way past the Capitol in matching knit caps with "Pro-Life" stitched on the front.
"I'm a lawyer and abortion is the law of the land and I have to respect that because it's constitutional. Morally and spiritually I think it's repugnant," Pushaw said.
"So I think it's more of an educational mission at this point. I would love to see it be overturned but part of it is just witnessing now, you know, a critical mass of people saying this is wrong and we oppose it even though it's the law of the land," he said.
Pushaw said there are different approaches within the anti-abortion movement.
"There's the Genocide Project down there," he said pointing back a few blocks. "It's that visceral depiction of what happens in an abortion, and I think that, for me, is a little polarizing. But I don't question their conviction in doing it. I'm just more trying to make it as non-sectarian and educational as possible in keeping the conviction. You don't need to scream. There's 100,000 people and the statement is made load and clear."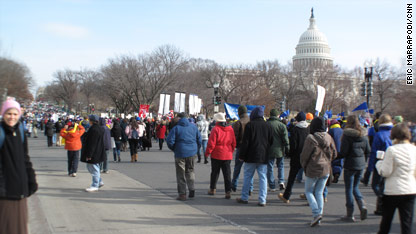 The rally drew from many parts of the country. Marchers held banners from churches in Missouri and parochial schools in New Jersey. Many of the marchers were young.
Alex Perry, 16, and Will Stancil, 17, were given the day off from their school. They attend a Catholic high school in Hyattsville, Maryland, where, they said, many of their friends and classmates are pro-choice.
"There's very few who are pro-life in our school, even though it is encouraged," Perry said.
"Nobody forces it on you. No one tries to sway you one way or the other. Everyone knows it's a really personal decision," Stancil said.
Heather Dougherty, a Catholic from Pittsburgh, said that for her the march was intensely personal.
"I've been marching all my life because I was an unplanned pregnancy," she said. "My parents were in college, they weren't married, and rather than abort me, my parents chose to give me up for adoption. And so I was blessed that she chose life."
She added, "I think we need to come at it from all sides. You can't just change the laws. You have to change the hearts of the people who are looking for it. You need to make people aware adoption is an option if they can't support a child."
About 15 abortion rights supporters stood outside the Supreme Court building as the march unfolded. They chanted and held signs of their own, imploring the court and Congress to keep abortion legal.
U.S. Capitol Police said there were no arrests as a result of the march and counterprotest.