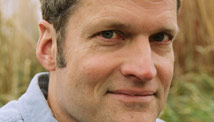 Editor's Note: Stephen Prothero, a Boston University religion scholar and author of "God is Not One: The Eight Rival Religions that Run the World," is a regular CNN Belief Blog contributor.
By Stephen Prothero, Special to CNN
A few weeks ago, I wrote about the stranglehold Christians have on our current Congress. While 77.8 percent of American adults self-identify as Christians, 90.3 percent of our current representatives in the House and Senate affiliate with some form of Christianity.
America looks a lot less Christian, however, if you turn your sights from the Congress to the crib. In fact, it looks like a Jewish nation.
According to data from the Social Security Administration website, Jacob (as in "Abraham, Isaac and Jacob") was the most popular name for boys born in the United States in 2009. In fact, it has been the most popular name for newborn boys since 1999.
Among the 10 most popular boys names, six are Hebrew (Jacob, Ethan, Michael, Joshua, Daniel, and Noah) and another (Jayden) — like Paul Newman and Goldie Hawn in Adam Sandler's "The Hanukkah Song" — is half Jewish (derived, some say, from the American name Jaden and the Hebrew name Jadon). In fact, the only non-Jewish names in the top 10 are Alexander (Greek), William (German), and Anthony (Latin).
Among the XX-chromosome set, Hebrew names are not so dominant, though the most popular girls name (Isabella) is Hebrew, as is the eighth (Abigail, King David's third wife). Rounding out the top 10 on the newborn girls side for 2009 are a mishmash of Greek (Sophia, Chloe), Latin (Olivia, Emily) and others (Emma, Ava, Madison and Mia).
What is striking about both lists, however, is the absence of Christian names. When I was born in 1960, two Gospel authors (John and Mark) cracked the top 10 for boys, and Mary was the most popular name for newborn girls.
According to scholars at the Center for Applied Research in the Apostolate at Georgetown University, Mary came in either first or second in the name derby for girls every year from 1910 to 1965. In 2009, however, she wasn't even in the top 100.
No wonder Pope Benedict XVII, according to a piece in London's The Daily Telegraph, is calling on parents to stop naming their children after celebrities (Ashton) and perfumes (Chanel) and give them proper Christian names instead.
The pope didn't say anything about Benedict, however. Neither does the Social Security Administration's name popularity tool, except for this: "Benedict is not in the top 1,000 names for any year of birth in the last 11 years. Please enter another name."