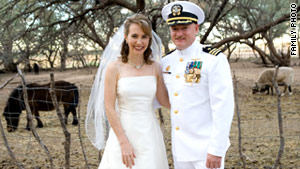 By Dan Gilgoff, CNN Belief Blog Co-Editor
U.S. Rep. Gabrielle Giffords' husband will speak at the Thursday's National Prayer Breakfast in Washington on the congresswoman's behalf, her office announced Wednesday.
Capt. Mark Kelly, a NASA astronaut, will deliver closing prayer at the event, the Arizona congresswoman's office said in a statement.
President Barack Obama will also speak at the breakfast, an annual event in Washington for 58 years.
Giffords was making "lightning speed" progress for a brain injury and had the drain for brain fluid removed from her head, her doctors said last week.
Authorities say that Giffords was the primary target of a shooting that left six people dead and 13 more injured in Tucson, Arizona on January 8.
Giffords and Kelly were married in 2007.
The National Prayer Breakfast was founded in 1953 and has been attended by every sitting president.
The White House will be streaming Obama's remarks live on its website.