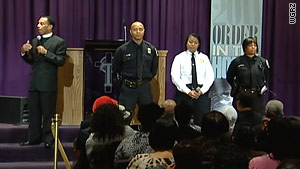 Some Buffalo churches concluded their services Sunday with recruiting sessions, of sorts. Members were encouraged to start on a potential path to a career in law enforcement.
True Bethel Baptist Church, led by Reverend and city Councilman Darius Pridgen, is one of the churches that agreed to pay the $25 application fee for the Buffalo Police Entrance Exam for those who are not able to afford it.
Police officers were at services to provide information and advice for potential applicants.
Read the full story on WGRZ.com