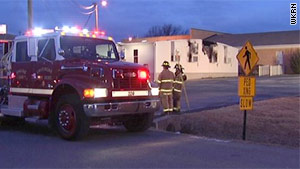 A portion of a Rutherford County, Tennessee church was destroyed by fire early Tuesday morning but it could have been much worse.
Only an outbuilding on the property of Miracle Baptist Church on Murfreesboro Road in LaVergne, about 30 miles southeast of Nashville, was scorched by flames, thanks, in part, to a man who was down-on-his-luck and reached out to the church for help just days earlier.
Ronald Kehl placed the critical call to the 911 just before 5 a.m. after he woke up, looked out his window and saw smoke turn to flames.
Read the full story on WKRN.com