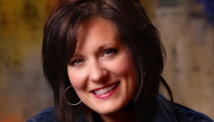 Editor's Note: Lysa TerKeurst is a woman who has finally found peace in her food and weight struggles after a 17-year battle. She wrote about her personal journey in her New York Times bestselling book, "Made to Crave."
By Lysa TerKeurst, Special to CNN
It's estimated that Americans will spend approximately $1 billion on chocolate this Valentine's season. But this year I won't be contributing to this number. Sorry Hershey, for now I've kissed sweets goodbye. And yes, I know there are health benefits from dark chocolate, but I'll be getting my flavonoids from green tea, fruits and veggies this year.
Why? Because on this day of love, I have decided the best gift I can give myself and my family is a healthy life, a healthy wife, and a healthy mom. And eating sweets isn't healthy for me in this season of my life. It sends me into a spiral of unhealthy food choices.