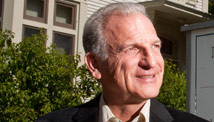 Editor's Note: Ehud Sperling is founder and president of Inner Traditions International, one of the world's largest publishers of books on spirituality, religion, and holistic health. He is the co-author of For Seven Lifetimes: an East-West Journey to A Spiritually Fulfilling and Sustainable Marriage.
By Ehud Sperling, Special to CNN
All my life I had believed, like most of us, that romantic love was a sure precursor and indicator of marital bliss. I had played the game of love and lost.
How could this be? I was and still am a book publisher, successfully working with women on a daily basis for 35 years. But a lasting and stable relationship with a woman in the role of my wife was eluding me.
Disillusioned with romance after my second divorce, I decided to take a year off from conventional dating to try to figure out how to succeed at finding a wife with whom I could spend the rest of my life in unspoiled domestic bliss.
I wanted to be married and have a family. I was convinced that marriage was the right vehicle through which I would find happiness and fulfillment.
Since I had fallen in love and married twice, I thought about the whole process and wondered why it was called "falling in love." I came to realize that what in fact fell was self-awareness, a necessary loss for Eros to be given full play in our psyche.
But one day we wake up and start to wonder, "Who is that person I fell in love with? What are his or her values? Are they compatible with my own?" As these ideas were passing through my mind, I found myself in New Delhi, India, participating in the arranged marriage of Sapna, the youngest daughter of an old friend named Harish Johari.
I had known Sapna as a child and was amazed to see her married to a man that her father and mother had chosen for her. Equally amazing was meeting up with the newlyweds two weeks after the wedding and seeing them already settled in as an old happily married couple.
It occurred to me that my ancestors from Eastern Europe had also practiced arranged marriage. In fact, this system of marriage was dominant throughout the world up until the modern era. The modern concept of romantic love has less than a 200-year history and a mere 50 percent success rate.
With that thought in mind and with encouragement from Harish - who has published more than a dozen books on Indian spirituality - I decided to try for an arranged marriage in India, where this system has operated with a high success rate for thousands of years and is still the dominant marriage system, as anyone who reads an Indian newspaper's matrimonial section is sure to discover.
With the help of my friends I placed an ad looking for a woman that I could successfully share my life with, a woman with an excellent relationship with her mother and whose horoscope matched mine.
From almost half a billion women in India, Vatsala saw my ad and responded to it because, per the tradition in her country and family, she was also looking for an arranged marriage. Before we met or spoke to each other and way before Eros could raise his handsome head, we wrote 99 letters to each other in a little less than a year.
In these letters, we explored our values and all the day-to-day practical concerns that, if left unresolved, could trigger domestic wars, potentially break a marriage, and kill the sparkle and warm blush of romantic love. Our common goals for this marriage were stable and happy family life and self-realization.
Our ideals were also reflected in the ancient Vedic shlokas, or verses, recited at our Hindu wedding in India when my bride's father placed her hand in mine:
. . . you need not go to the forest to do austerities for gaining wisdom. If you marry my wise daughter and settle down in the household, you will - by virtue of a family life lived well - gain all the wisdom that you are seeking.
Isn't wisdom what we need to handle the complexities of modern marriage and its demands for clear gender roles? Isn't wisdom necessary to create a successful partnership that supports the growth of the individual?
Isn't it the better part of wisdom to have the advantage of arranging a marriage with the help of the people who love you most - your family - in an effort to harmonize and complement the qualities backgrounds, and value systems of the couple-to-be?
So how did it work out? After 15 years of marriage, we've just published a book on sustainable marriage.
The opinions expressed in this commentary are solely those of Ehud Sperling.