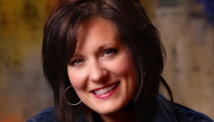 Editor's Note: Lysa TerKeurst is a woman who has finally found peace in her food and weight struggles after a 17-year battle. She wrote about her personal journey in her New York Times bestselling book, "Made to Crave."
By Lysa TerKeurst, Special to CNN
It's estimated that Americans will spend approximately $1 billion on chocolate this Valentine's season. But this year I won't be contributing to this number. Sorry Hershey, for now I've kissed sweets goodbye. And yes, I know there are health benefits from dark chocolate, but I'll be getting my flavonoids from green tea, fruits and veggies this year.
Why? Because on this day of love, I have decided the best gift I can give myself and my family is a healthy life, a healthy wife, and a healthy mom. And eating sweets isn't healthy for me in this season of my life. It sends me into a spiral of unhealthy food choices.
Surprisingly, making this choice in the name of love has helped me get past the old feelings of having a pity party while the rest of America lives it up chocolate style.
I'm not feeling deprived. Because of my faith I'm feeling empowered to make this choice and it feels great.
Am I writing this to call all people to avoid sweets in the name of love?
No, I'm writing to those who are struggling with their weight and ready to go sit in the bathroom stall at work and cry today. Valentine's is a hard day for those of us whose New Year's resolutions have left our taste buds screaming for a reprieve - a break from all the healthy sacrifices. And certainly, if you can eat one piece of chocolate and return back to healthy choices, great.
At one time, I couldn't do that. One piece led to ten led to twenty which led to an all out reversal of pursuing healthy choices.
One of my most raw, weak places for years was my inability to find peace with my eating struggles. I hated that this had to be my issue. I hated that I didn't seem to have the self-control other women so effortlessly exhibited. I hated that I constantly bounced from feeling deprived to feeling guilty with my food choices.
And I don't flippantly use the word hate.
It's reserved for the most brutal of struggles and self-loathing, which this most certainly was.
I want to share three things that have helped me if your weak place is a food struggle.
1. You are more than a sum total of your taste buds. Remind yourself when you think you want that unhealthy food option that only your taste buds want that. Your heart doesn't crave that candy bar. Your arms don't desire those french fries. Your brain doesn't need those chips. Your hiney doesn't want that cheesecake.
Only your taste buds want that. So let your arms, brain, heart, hiney, and the whole of who you are boss your taste buds around.
2. Nothing tastes as good as peace feels. As a Christian I believe God made us to walk in His peace. You were made to consume food but food was never supposed to consume you. Of all the things Jesus provided for us, peace was first on His list!
"Peace I leave you; my peace I give you. I do not give to you as the world gives. Do not let your hearts be troubled and do not be afraid," (John 14: 26-27).
Ask yourself, "Is this food option going to add to my peace or take away from it? Is an indulgence in a holiday of sweets going to trouble my heart in retrospect? Remind yourself when facing each food choice, "nothing tastes as good as peace feels!"
3. The scale can measure your physical weight but never your worth as a person. Do you know that? I mean do you know it the second you step on that scale and start calling yourself names you'd never let other people call you?
Here's a little activity I want you to do this week. Go get some sticky notes. Write these words on them: beautiful, courageous, able and victorious.
Now, put these notes over the numbers on your scale and for the next five days, receive only the truth when you step on that scale.
For this week measure your progress by asking yourself these questions: Did I make healthy choices with my food this week? Did I eat for comfort instead of eating for nourishment?
Did I exercise my body and celebrate being able to do so?
If the answers are yes, I don't need the scale to affirm that this week.
So, on this day of candy and chocolate, I'll be celebrating with flowers and love notes. And for those of you doing the same, I pray these three whispers of truth breathe strength into a very raw, hard, and sometimes seemingly impossible struggle. Trust me, victory is possible.
Let love and grace and truth lead you to this place.
The opinions expressed in this commentary are solely those of Lysa TerKeurst.