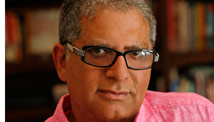 Editor's Note: Deepak Chopra is founder of the Chopra Foundation and a senior scientist at the Gallup Organization. He has authored over 60 books, including The Soul of Leadership, which The Wall Street Journal called one of five best business books about careers.
By Deepak Chopra, Special to CNN
For most people, science deserves its reputation for being opposed to religion.
I'm not thinking of the rather noisy campaign by a handful of die-hard atheists to demote and ridicule faith.
I'm thinking instead of Charles Darwin, whose theory of evolution has proved victorious over the Book of Genesis and its story of God creating the universe in seven days. Since then, God has been found wanting when measured against facts and data. With no data to support the existence of God, there is also no reason for religion and science to close the gap between them.
Yet the gap has indeed been closing.