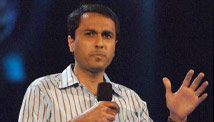 Editor's Note: Eboo Patel is Founder and President of Interfaith Youth Core, a Chicago-based organization building interfaith cooperation, and author of Acts of Faith. Follow him on Twitter: @EbooPatel.
By Eboo Patel, Special to CNN
On the morning of December 5, 1955, Martin Luther King Jr. woke up early. He sat at his kitchen table nervously drinking coffee while his wife Coretta stood next to the front window.
When Coretta saw the headlights of the first bus on the South Jackson line, she called to her husband. They watched it roll by together, empty. The next one was too. And the one after that. All the buses were empty. The day laborers, maids and other working class African-Americans who used the Montgomery buses had heeded the call. The Montgomery bus boycott was on.
King was elated. He and a small group of other civic and religious leaders in Montgomery, Alabama had spent the last several days targeting the churches and community groups in the area with a simple message: in response to the arrest of Rosa Parks, African-Americans should stop patronizing the buses of Montgomery until they could ride with the same equality and dignity as white people.
They got a positive response from the people they met with but, truth be told, King and his colleagues had no idea whether their call would work. Not only would a boycott severely inconvenience African-Americans, it could jeopardize their jobs and make them targets of violent reprisals from segregationists. The community discipline, solidarity and willingness to sacrifice both surprised and inspired the 26-year old minister.
One young Egyptian likely knows how King felt watching the buses drive by empty on that December morning a more than half a century ago. He had a similar dream, he'd made a similar call, and he had experienced a similar nervous wait.
As Wael Ghonim watched the uprising in Tunisia gain steam, he polled the members of the 'We Are All Khaled Said' Facebook page - named after a young Egyptian who died at the hands of police in Alexandria -  to see who might come to a protest in Egypt on January 25.
Tens of thousands responded they would, but going to sleep on January 24 Ghonim must have been just as nervous as King was on the eve of the bus boycott. And he must have felt just as elated when he saw masses of people stream out of homes and houses of worship onto the streets and bridges of Cairo, chanting "Peacefully, peacefully" as they faced riot police and tear gas on their way to Tahrir Square.
King was an unlikely hero - a prince of the black church, a man of refined and elite tastes who dreamed of the quiet intellectual life of a professor. Ghonim's emergence as a public figure is equally surprising. A married corporate executive who lived in an affluent suburb of a different country, the United Arab Emirates' Dubai, he had much to lose materially by participating in the protests.
The most striking similarity between King in Montgomery and Ghonim in Cairo is how they responded to history's call.
Both suffered personally, but resolutely refused revenge. During the Montgomery bus boycott, King was jailed, his house was firebombed and he and his family regularly received death threats. Still, in a speech at the end of the boycott, he showed no bitterness or taste for revenge. Instead, he said: "The end is reconciliation, the end is redemption, the end is the creation of the beloved community."
Ghonim was kidnapped by Mubarak' security forces, blindfolded, aggressively interrogated and held in solitary confinement for 12 days.
His family searched the morgues and hospitals of Egypt, desperate for news of his whereabouts. The first thing he did when he was released was kiss his captors, telling them he felt no enmity to fellow Egyptians. During his emotional television interview after being released, Ghonim implored his fellow Egyptians involved in the protest not to seek revenge or settle scores with those who oppressed them, but instead to focus on building Egypt.
Cooperation across religious lines was an inspiring dynamic in both movements. King famously marched with the great Rabbi Abraham Joshua Heschel and spoke often of the lessons he drew from the Hindu leader Mahatma Gandhi and the Buddhist monk Thich Nhat Hanh.
In Tahrir Square, Christians made a human chain around Muslims bending in prayer in Tahrir Square, and Muslims in turn made sure that Christians holding mass the following Sunday were safe. Ghonim held these stories up in his tweets and messages - saying for example that he was very moved that the Muslim preacher who led prayers the Friday after the regime fell explicitly addressed his sermon to both Muslims and Christians.
What King started in Montgomery, he carried through every step of his work: consistent in passion, consistent in non-violence, and consistent in calling for reconciliation.
Ghonim's start has been remarkably similar to King's. We hope his leadership continues to bend toward justice, day by day: consistent in passion, consistent in non-violence, and consistent in calling for reconciliation.
The opinions expressed are solely those of Eboo Patel.