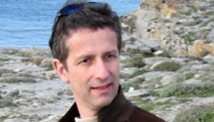 Editor's Note: Bernard Schweizer is an associate professor of English at Long Island University in Brooklyn. He specializes in the study of iconoclasts and rebels, including the controversial writer and public intellectual Rebecca West. His third book is "Hating God."
By Bernard Schweizer, Special to CNN
There's a lost tribe of religious believers who have suffered a lasting identity crisis. I am referring to the category-defying species of believers who accept the existence of the creator God and yet refuse to worship him. In fact they may go so far as to say that they hate God.
 
No, I'm not talking about atheists. Non-believers may say contemptuous things about God, but when they do so, they are simply giving the thumbs-down to a fictional character. They may as well express dislike about Shakespeare's devious Iago, Dickens' scheming Uriah Heep or Dr. Seuss' Grinch who stole Christmas.
 
For atheists, God is in the same category as these fictional villains. Except that since God is the most popular of all fictional villains, New Atheists – those evangelizing ones such as Christopher Hitchens and Richard Dawkins - spend a considerable amount of energy enumerating his flaws.
 
But someone who truly believes in God's existence and yet hates or scorns him is in a state of religious rebellion so perplexing as to strain our common understanding of faith to the breaking point.
 
Although these radical dissenters could steal the thunder from the New Atheists, they have remained almost unknown to date.
 
When it comes to God-hatred, a collective blindness seems to settle on us. First, we lack a generally agreed-upon name to refer to this religious rebellion. And anything that doesn't have a word associated with it doesn't exist, right?
 
Well, in the case of God-hatred, this principle doesn't hold because the phenomenon does exist whether or not there's a name for it. And in any case, I've ended the semantic impasse by naming these rebels and their stance once for all. My chosen term is misotheism, a word composed of the Greek root "misos" (hatred) and "theos" (deity).
 
Why do I care so much about them? They strike me as brave, visionary, intelligent people who reject God from a sense of moral outrage and despair because of the amount of injustice and suffering that they witness in this world.
 
At the same time, they are exercising self-censorship because they dare not voice their opinion openly. After all, publicly insulting God can have consequences ranging from ostracism to imprisonment, fines and even death, depending on where the blasphemy takes place (Ireland, for instance, imposes a fine of up to 25,000 Euros for blasphemy) and what God is the target of attacks (under sharia law, being found an enemy of God, or "mohareb" is a capital offense).
 
But I also care about these rebels because they chose literature as their principal medium for dealing with their God-hatred. I am a professor of literature, and the misotheists' choice of literature as their first line of defense and preferred medium endears them to me.
 
Literature offered them the only outlet to vent their rage against God. And it was a pretty safe haven for doing so. Indeed, hardly anybody seems to notice when God-hatred is expressed in literature. Such writers cleverly "package" their blasphemous thoughts in works of literature without seeming to give offense in any overt way.
 
At the same time, these writers count on the reader's cooperation to keep their "secret" safe. It's like a pact between writer and reader.
 
Zora Neale Hurston could write that "all gods who receive homage are cruel" without anybody objecting that "all gods" must necessarily include the persons of the Christian Trinity.
 
Or Rebecca West could write that "something has happened which can only be explained by supposing that God hates you with merciless hatred, and nobody will admit it," counting on the fact that, since nobody will admit it, nobody will rat her out for blasphemy.
 
There lies, in a sense, the awesome, subversive power of literary writing, something that had worried Plato 2,400 years ago when he required that all poets be removed from his ideal "Republic." Interestingly, though, while guardians of propriety have put Huckleberry Finn on the list of proscribed texts because of its liberal use of the N-word, few people have declared Hurston's "Their Eyes Were Watching God" or Shelley's "Prometheus Unbound" or West's "The Return of the Soldier" as forbidden texts because of the underlying misotheism of these works.
 
And even where the misotheism is overtly expressed, as in Elie Wiesel's "The Trial of God" or in James Morrow's "Godhead Trilogy," literature offers an enclave of religious freedom that is vital to the human spirit and its impulse to free itself of any shackles, even the commands of God.
 
I refer to the story of misotheism as "untold" partly because misotheism tends not to be noticed even when it hides in plain sight. Another reason why the story of misotheism is "untold" is that nobody has bothered yet to draw the larger lines of development over time, beginning with the Book of Job and ending up with utilitarianism, philosophical anarchism and feminism. That story in itself is quite engrossing, but again it is not a story that has really ever been presented.
 
So I am doing quite a bit of connecting the dots, unearthing overlooked connections and making distinctions such as proposing a system of three different types of misotheism - agonistic (conflicted), absolute and political. Misotheism in its various manifestations is a dark, disturbing and perplexing strand of religious dissent. But at the same time, it is an attitude toward the divine that shows just how compelling belief can be.
 
If people continue to believe in a God they find to be contemptible, then belief is such a powerful force that it cannot be simply switched off on the basis of empirical data. Thus, in the last consequence, the study of misotheism is a testament to the power of belief, albeit a twisted, unconventional form.
The opinions expressed in this commentary are solely those of Bernard Schweizer.