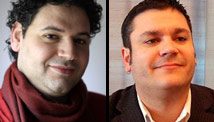 Editor's note: Karam Dana, Ph.D. is a Dubai Initiative Research Fellow at the Belfer Center for Science and International Affairs at the John F. Kennedy School of Government at Harvard University and a faculty member at Tufts University, where he teaches courses on Middle East history and politics. Matt A. Barreto, Ph.D. is associate professor of political science and director of the Washington Institute for the Study of Ethnicity & Race at the University of Washington, Seattle. Together, they are the co-principal investigators of the MAPOS study of American Muslims.
In 2004, Rep. Peter King stated that 80% to 85% of mosques in America were controlled by Islamic fundamentalists and amounted to "an enemy living amongst us." In 2007 he said, "Unfortunately we have too many mosques in this country" and called for FBI surveillance and infiltration of mosques because that's where terrorists were being "homegrown."
Just a month ago he repeated the claim that over 80% of mosques are controlled by radical imams. Now, he is holding a congressional hearing to expose the radical elements of Islam in America.
Read the full story