By Sally Holland, CNN
Thomas Jefferson literally cut passages on the chronology and moral teachings of Jesus out of several Bibles and glued them into what historians have termed the Jefferson Bible.
The founding father completed the book that he called "The Life and Morals of Jesus of Nazareth" during his retirement in 1820.
Conservationists at the National Museum of American History are currently working to preserve the almost-200-year-old book so it can go on display in November.
Paper conservator Janice Stagnitto Ellis said the main problem is the way the book was bound. Over time, the paper has become less flexible, and bending the brittle pages caused the paper to tear, she said.
"Without doing modifications to the binding, we could open the book [to] about a 30-degree angle before the paper would be required to bend, which it couldn't do," she said. "It became un-exhibitable."
The goal is to display the book opened to a 90-degree angle.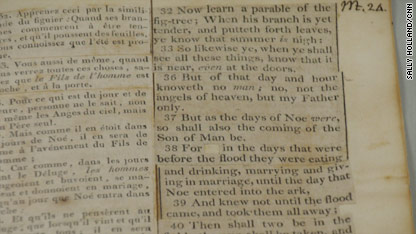 The 86-page book was bound in high-end red Moroccan leather with gold tooling. Inside, passages from the Gospels of Matthew, Mark, Luke and John in English, French, Latin and Greek are pasted side by side so Jefferson could compare the various translations of the story of the life of Jesus.
"He puts them in chronological order and ... extracts those parts that can be identified through reason and thought," museum curator Harry Rubenstein said. "So out goes the miracles, out goes the resurrections and what remains is what he thinks is the life and morals of Jesus, the true teachings."
Jefferson used six different "source" Bibles to create his version: two in English, two in French and two that included both Greek and Latin. He needed two of each so that if he cut a passage out of one side of a page, he would still have the back side of that page in case he wanted to include a passage from there.
The museum also has the two English "source" Bibles which show the cutout holes of the scripture Jefferson included in his version.
Jefferson also changed the grammar. On one page, he apparently didn't like the number of prepositions in a verse from Matthew that started, "For as in the days that were before the flood ..." He cut out the word "as," changing the scripture to "For in the days that were before the flood ..."
The Smithsonian acquired the book from Jefferson's great-granddaughter in 1895 for $400.
In 1904, Congress authorized printed photocopies of the book that were given to all of its incoming members. This practice ended in the 1950s when they ran out of copies.
Currently, preservationists have removed the binding for the Jefferson Bible and are doing digital scans of all of the pages of the book to be included as part of the display later this year.
They are looking at various ways to provide more flexibility in the binding.